go to more Adopted!
contents
homepage
The Buckeye House Rabbit Society
Adopted!
volume 3
---
Burnaby
Here is one lop eager for a lap! Burnaby is a young male mini-lop with a calm, affectionate nature, comfortable with everyone. His litterbox habits are excellent and he loves being brushed.
Sweet little Burnaby is now residing in Columbus with human companion Nicole.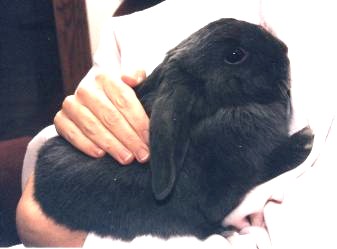 ---
Butterscotch
Butterscotch needs lots of human attention or a rabbit friend. He will follow you around for pets and always wants to be part of the household activities. He has a "clownish" personality and loves to entertain! Definitely a lap rabbit.

We're thankful the Joseph family of Mayfield Heights is giving him everything he needs.

The adoption is final!
---
Figaro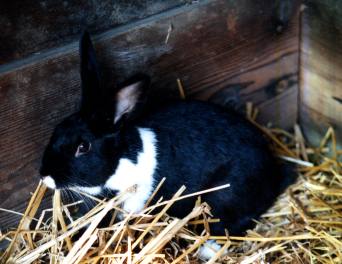 Figaro is a very sweet and friendly male Dutch mix bunny with shiny fur. He was found abandoned outside.
---
Whitney
| | |
| --- | --- |
| | An all-black velvety rex bunny, Whitney has a very pleasant disposition. She was found abandoned in an Akron park with a broken leg which has healed nicely. She has found a home that can give her lots of the affection she craves. |
---
Juniper
A snow-white girl with pink eyes and stand-up ears, Juniper is playful, yet sweet, and likes to be petted. Once an abandoned Easter bunny, she is now bonded with her new mate and her humans really like her. This home is PERMANENT.
---
Ears
A velvety Rex bunny, white with gray markings, Ears has a very pleasant disposition. He's three years old and his family had to move out of the country, leaving him behind.

Ears went to his new home with Cindy Brendza in July. This real sweet guy holds the record for the shortest stay at Kristi's house -- 3.5 weeks.
---
Clio and Spenser
I just wanted to let you know that two of the rabbits on the Buckeye
website now have a home with my husband and me! Spenser and Clio are now living in Pittsburgh and being wonderful.
-- Amy Shiner

Clio is a sweet and quiet albino girl. She is very personable and weighs about five pounds.
Spenser is a male mixed-breed bunny with a very friendly personality. He's one year old and weighs seven pounds.
---
Daisy
| | | |
| --- | --- | --- |
| Daisy is a mellow female lop with brown and white Siamese-like markings. She is extremely well litter-box trained and loves to be petted. | | On Tues, July 14th, Daisy went to her new home to be with her boyfriend, Simon, in Lodi with Kim & Mike Daniels, 2 dogs, 3 kitties, and 2 miniature donkeys. |
---
Murphy
| | |
| --- | --- |
| Murphy has found a new home with David and Erica Seidel and will be sharing their affection along with current bunny, Teyve. A nine-month-old female chocolate Dutch mix, Murphy is very friendly and likes to dance around for exercise. She loves timothy hay and brings good litter habits to her new home. | |
---
Jasper
| | |
| --- | --- |
| | Jasper is a very active chocolatey-brown dwarf. He's 9 months old and weighs 3-4 lbs. He loves to give bunny kisses, too. What a cutie! This sweet brown dwarf mix found a new home with a really nice couple who met him and fell in love. Jasper is now charming his new family in Parma. Paula is very pleased to have him as a new addition to the family. |
---
Oreo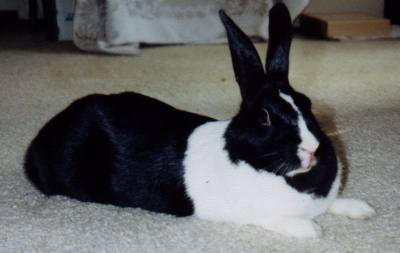 Oreo was adopted to a very loving family, the Salays, in Wadsworth. She is using her litter box, eating well, and getting along just fine. She is getting lots of attention and pets. They have one bunny already and may bond them at a later time.
go to beginning | contents | homepage
---
This page is maintained by David Sharpe (www.ohio.edu/people/sharpe)
Please send comments to
All rights reserved