go to more Adopted!
contents
homepage
The Buckeye House Rabbit Society
Adopted!
volume 4
---
Toby
Toby was born in early December in a shelter to a mother rabbit rescued from a neglectful situation. He is a male, all black with a few white hairs on his nose. He will be about 6 lbs. full-grown.

Toby has bonded to his new friend, Betsy, and they are happily sharing quarters outside of Pittsburgh.
---
Garfield
Garfield is doing lots of cuddling with his new pal, Smokey. He was adopted by the McBride family of Columbus.

For more about the rescue behind this successful adoption, take a look at the Spotlight on ... Garfield that helped draw attention to his plight.
---
Murray
Murray is a one year old male lop who is grey agouti colored. He weighs about 9 lbs. and loves to play with wicker baskets and his ball. He really enjoys neck rubs, too.

Murray joined the Trent family in Morgantown and has found true love with pal, China.
---
Ian (Benny)
| | | |
| --- | --- | --- |
| Ian Rabbit was found at the Bowling Green Police Department on February 12th 1999. We don't know what he was in for but he wanted out. An unsuspecting Buckeye HRS fosterer took one look at his deep dark eyes and his short reddish hair and decided to help the boy make a run for it. | | Two weeks later Ian was taken to Pittsburgh by a wonder family. They have a sweet little lop ear named Lucky who took to Ian right away. Now Ian is living under the assumed name Benny. Benny and Lucky are hoping to have many bunny adventures together. |
---
Oliver
| | |
| --- | --- |
| | This blue-eyed sweetie has found a new home with Linda in Gallipolis. He's lively and playful, yet loves cuddles too. |
---
Xena
Xena has a new home with the Coles and new pal, Samson (on the right).
---
Summer
| | |
| --- | --- |
| | Summer, a sweet middle-aged agouti lop girl, has found a new home with Lin where she is getting lots of love and attention. |
---
Dakota
Dakota was instantly taken in by Laurel bunny and they share their home with Scott. Dakota is a very energetic, young male rabbit. He now has room to run and play and loves his timothy hay. In his photos above, he's about 6 months old and weighs 4 lbs.
---
Liza
| | |
| --- | --- |
| Liza went to her new home in Mt. Blanchard, Ohio, to live with the Deckers and a rabbit friend, Banana. Liza is a uniquely colored dark agouti female lop. She is young and playful and needs no help finding and using her litterbox. | |
---
Dunkin
Dunkin is a male mini-lop, approximately one year old. He is siamese-colored in shades of grey. Very personable, he enjoys being petted, and is very accurate with his litterbox.
Dunkin is now residing with Carmel and the Brunsman family.
---
Daphne
Daphne is a very pretty female rex bunny with that luxurious fur. She is about 3-4 pounds and was found abandoned outside. Daphne is now a part of the Hatfield family and is hanging out with Muffin.
---
Richmond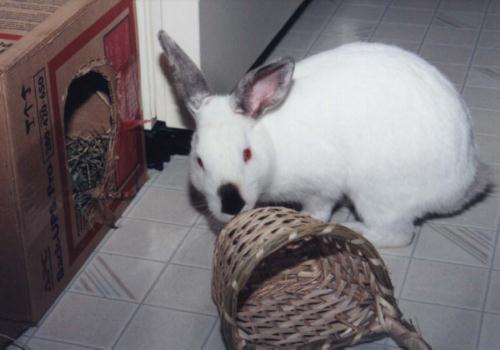 Richmond, named in honor of the Richmond Heights Police Department who saved him from the dangers of street life, is enjoying all the comforts of a real home with David and Herta.
go to beginning | contents | homepage
---
This page is maintained by David Sharpe (www.ohio.edu/people/sharpe)
Please send comments to
All rights reserved