The Buckeye House Rabbit Society
Adopted!
volume 7
---
Lucy
| | | |
| --- | --- | --- |
| | | Lucy was adopted and will be a pal for Dudley. We had a dating session so Dudley could meet some gal pals and he and Lucy hit it off very well, snuggling and grooming each other. |
| | | |
---
Velvet
| | |
| --- | --- |
| | Velvet is a mellow girl with big brown eyes. The vet said she is either an older rabbit (3 to 4 years) or has had a rough life -- but she's active and curious. All seven pounds of her is in good health thanks to the proper care she now enjoys. She is named for the black fur on her ears. |
| Velvet is now living in Vickery with Truman (formally Sawyer), who was also adopted from the Buckeye House Rabbit Society. | |
---
Zoe (formerly Sassafras)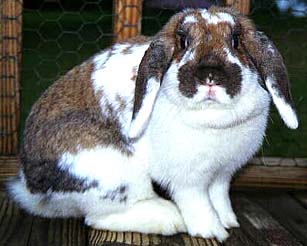 My name is now Zoe and I have a wonderful bunny pal named Sashe.
Zoe is a sweet female lop who is about 1 year old and weighs about 4-5 lbs. She is a playful girl and loves napping inside her cardboard tunnel.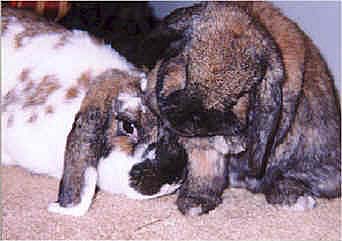 Michella Stultz-Karapondo of Cincinnati sends this photo of Sashe and Zoe. Zoe was the DennABun Bunny of the Week.
---
Licorice
Licorice will be making his home with Sarah and keeping her on her toes as he explores his new turf.

This young mini-rex male is friendly and full of energy which he expends by dancing and leaping around. He has that wonderful plush rex fur and when he's full-grown he'll be about 4 lbs.
---
Jasmine
| | | |
| --- | --- | --- |
| | | Jasmine's snow white coat shows off her brown California nose, ear, and paw markings. She is approximately 4 lbs and perfectly litterbox trained. Jasmine is curious yet a little shy. She loves to eat hay and is in excellent health. |
| Jasmine was adopted by Jen Szczublewski and her husband Craig of Maumee, where she and buddy Spencer are taking over a whole new house! | | |
---
Bullet
| | |
| --- | --- |
| Marci Wallace of Richmond Heights welcomed the speeding Bullet into her home. He now has lots of room to zip through the house. | |
---
Sweetie Boy (formerly Buckwheat)
Sweetie Boy (the former Buckwheat ) was adopted by the Vaughan's of Mayfield Heights. His new girlfriend Ophelia helped Buckwheat recover from recent emergency stomach surgery. The surgery was successful and he is now happy and healthy.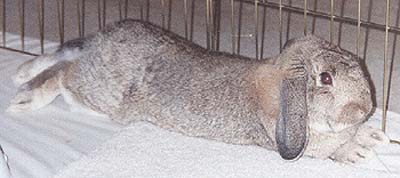 ---
Hudson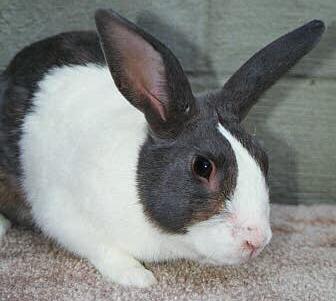 Hudson is a Dutch male who really loves human interaction and being petted. He keeps his area very neat, but loves to get on top of his cardboard hut. Found as a stray being attacked by a raccoon, Hudson has recovered wonderfully and now has a new home and a new pal named Brulee.
---
Dexter
| | |
| --- | --- |
| | Dexter is a friendly boy, about 6 months old, white with brown markings on his ears, nose, and feet. He is very outgoing and playful and jumps up on our laps for pets! He loves his hay and is great with his litterbox. He will be about 8 lbs. when full-grown. Dexter (picture on web) was adopted by Megan Poole of Cincinnati. He will be her study partner. |
---
Wilbur
| | |
| --- | --- |
| Wilbur was adopted by Carrie Goglin of Vickery. He shares a home with four turtles and a fish. Wilbur gets so excited when he gets his apple slice that he runs tracks around his pen with the apple in his mouth! He is very mellow and gentle, loves to be petted, and does great with his litterbox. | |
go to beginning | contents | homepage
---
This page is maintained by David Sharpe (www.ohio.edu/people/sharpe)
Please send comments to
All rights reserved