The Buckeye House Rabbit Society
Adopted!
volume 8
---
Barry
Barry is a male lop mix with an adorable face and flexible ears. He is soft and white and weighs about 5 lbs.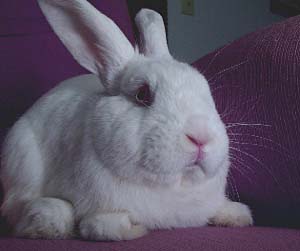 Barry is now living with the Rauguth family and has happily claimed the kitchen as
his home.
---
Morgan
Morgan is a sweet young female bunny, who enjoys nibbling and tossing her wicker basket. She weighs about 5 lbs., likes to be petted, and really looks forward to her salads.

Morgan has been adopted by Melinda and has quickly made friends with resident rabbit, Gizmo.
---
Dimple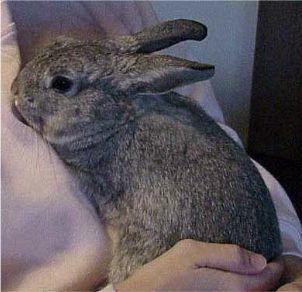 Playful, high-spirited Dimple was found alone and abandoned in a house after the tenants moved out. Despite this sad treatment, he craves human attention and loves to cuddle and give lick-kisses. Dimple weighs about 3 lbs, is in excellent health, and has great litterbox habits. He enjoys tossing his favorite basket and burrowing under his hay.

Dimple is now happily residing with the Malin family of Loveland.
---
Nutmeg
Nutmeg is a shy, but beautiful girl who has been adopted into a calm, quiet household. She likes to play in cardboard boxes and weighs about 6-7 lbs. She is very neat and has great litter habits.

She is very happy with Jean and will be a friend to Snooks, the resident rabbit.
---
Daisy
| | |
| --- | --- |
| | This black and white beauty was found in the median of a major highway in northeast Ohio. Daisy is now living in Canton with Tammy, where she insists on having the radio on. She seems to have adjusted quickly to new surroundings and has become a little snuggle bunny. |
---
Reuben
Reuben was rescued after being spotted in a ditch surrounding a new-construction basement foundation. He must have fallen in, but was not hurt. He is a sweet, mellow guy who loves to explore new areas, then flop out. Reuben has a new pal Bundles. He was adopted by Susan and Henry Porter-Pintz of Columbus.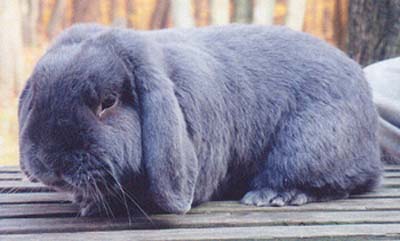 ---
Ginger
Ginger is a 3 lb reddish-brown lop with an assertive yet friendly personality. She knows what she wants and she'll let you know too, including lots of petting and snuggling.

Ginger was adopted by the Pasternacks of Rocky River. She is exploring the house with her buddy, the Fuzzman.
---
Houdini
| | |
| --- | --- |
| Houdini (formerly Houghton) was adopted by the Delehantys of Hinckley, where he lives and reads with Emily in her bedroom. | |
---
Truman and Bella
| | |
| --- | --- |
| | Truman (formerly Sawyer, seen left in photo) is residing with Lee in Vickery. He and new bunny friend Bella (formerly Velvet) enjoy exploring and getting into mischief together. |
---
Annabelle
Annabelle (was Flurry -- the all-white one) now lives in Gallipolis, where she's enjoying the company of bunny buddy Oliver and human companion Linda.
go to beginning | contents | homepage
---
This page is maintained by David Sharpe (www.ohio.edu/people/sharpe)
Please send comments to
All rights reserved