The Buckeye House Rabbit Society
Adopted!
volume 9
---
Phoebe
Phoebe is enjoying exploring her new home with Shannon and finding a friend in Joey.

Phoebe is a 4 lb. female lop with interesting facial markings. She is under a year old and is friendly and playful. She likes napping inside her cardboard tunnel.
---
Sheldon
Sheldon has found a nurturing home with Georgia and Bob and is happy to have lots of snuggling time with his new family.

Sheldon is a 4-5 year old male lop weighing about 7 lbs. He is very sweet and really enjoys human interaction. Due to being confined in a tiny cage with little room to move for most of his life, he now has some arthritis in his hips. This makes him a bit wobbly, but he is still quite mobile and is able to use a litterpan. This middle-aged sweetheart needs lots of exercise to keep his joints limber.
---
Freckles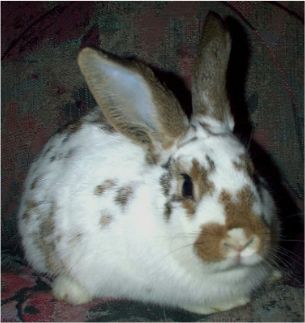 Freckles is a playful female who is about 4-6 months old. She likes playing in her cardboard tunnel and tossing wicker baskets. She will be about 5 lbs. when she has fully grown into her ears. She was abandoned at a local APL with her mom and siblings. Freckles is now entertaining the Justice family and is busy being a pal to Houdini.
---
Mia
Mia has a wonderful new home with Jen and and Craig and a new friend in Buster bunny.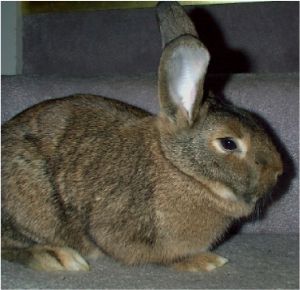 Not to be confused with a cottontail, Mia is a gorgeous 5 lb. domestic agouti-colored female who is about a year old. She enjoys tossing her plastic ball around and keeps her pen very tidy. Mia was abandoned at a local APL with 2 litters of her babies.
---
Rico
| | |
| --- | --- |
| Rico has moved in with the Smiths of Columbus. He's sharing a room with Jessica and is beginning to get acquainted with two feline friends. | |
| photo by Brian Smith | Rico loves his salads and his hay, and looks forward to his romp time. |
---
Bijou
Bijou is a sweet petite all-black dwarf. She came to us a little shy, but this little 2-pounder now nudges us for pets and hunkers down for long petting sessions.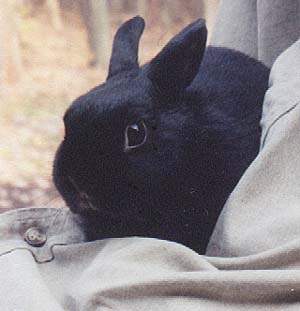 Bijou was adopted by the Sivertsons of Shaker Heights, where she is trying to make friends with Lulu.
---
Whiskers
Whiskers was adopted into the home of Betsy Consoli of Grove City, where he will receive the special care that he needs.

Whiskers is a sweet and mellow spotted lop who will melt in your lap. He's roughly 4 lbs and loves to be petted.
---
Cookie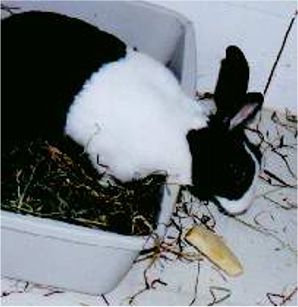 Cookie was adopted by Emily Joseph of Mayfield Heights. She is a curious young bunny who loves her apple and never refuses petting. Now she lives in Emily's bedroom and helps her study.
---
Indigo
This young, playful, and affectionate jet-black girl was adopted by the Clarke family of Orange. She will have lots of freedom to run and enjoy nose pets from Kenny, Dan, and Alison.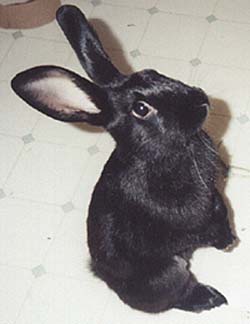 go to beginning | contents | homepage
---
This page is maintained by David Sharpe (www.ohio.edu/people/sharpe)
Please send comments to
All rights reserved