The Buckeye House Rabbit Society
Adopted!
volume 11
---
Bobo (formerly Boris)
Bobo is a six-pound male lop approximately two years old, who stops all activity when he starts to get pets. He is so good with his litter box habits he could give classes.

Bobo has been adopted by Tony and Vicki Ricci of Youngstown.
---
Smokey Joe
Smokey Joe was a stray left on his own. This dark gray rex with dark eyes and white tipped paws is about one year old and is a very active and friendly four-pound bundle.
Smokey Joe went off to a new home in Pittsburgh with Emily, an art student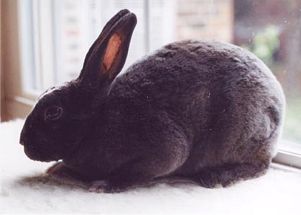 ---
Newton
Newton is a 9-12 month old male bunny with hotot markings (the black "eyeliner" and black ears). He weighs about 3 lbs. and is very playful and curious. He loves to play with and chew on his cardboard box and tunnel and also to climb on the humans when they sit in his area.
Newton is enjoying his new family and a spacious custom-made home with Emily.
---
Moxie & Winky
| | |
| --- | --- |
| | Moxie and Winky are a bonded pair. They snuggle and lick each other all day and are the best of friends. Both are young, in excellent health, great hay eaters, and litterbox-savvy. They have found a great home together |
---
Seymore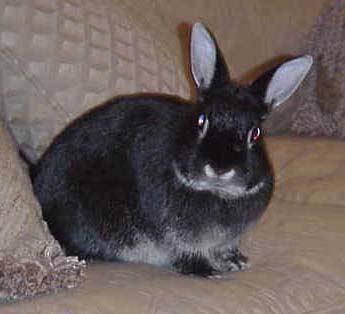 It's hard to believe that this adorable little fellow was scheduled to be euthanized at the shelter where he had been abandoned. Tiny, two-pound Seymour is strikingly handsome -- jet-black with beige highlights -- and has the most expressive eyes. He's very friendly, loves to cuddle, and has impeccable litterbox habits.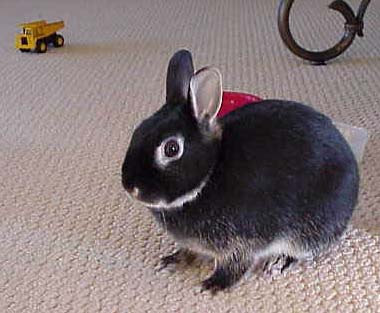 Seymour is now residing with Holly in Louisville KY. He's having great fun playing with little Jeremy and his building blocks.
---
C.C. Brown
Found in a park, C.C. Brown is a one-to-two-year-old female and weighs approximately four pounds. Energetic and loving good pets, she is as fun as she looks with her one white "sock" on her right front paw.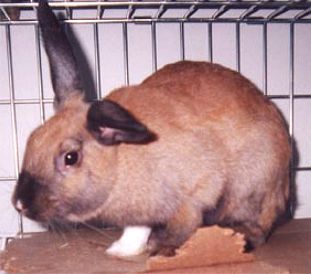 ---
Babs
This friendly Dutch sweetheart weighs approximately 5 lbs and will demand to be petted if she is forgotten. She loves to explore, dig in her hay box, tear at her straw mats, and play with her hanging toys.
Babs has been officially adopted by Barbara Armstrong in Pepper Pike. She's getting acquainted with her new friend, Sparky.
---
Chloe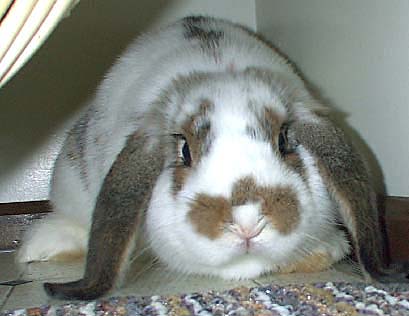 Young Chloe is now happily living with Pam and Ron and enjoying her deluxe condo.

Chloe is a young female lop with expressive markings on her darling face. She will likely be about 6 pounds when full grown. She enjoys playing and napping in, on, and behind her wicker laundry basket.
go to beginning | contents | homepage

---

This page is maintained by David Sharpe (www.ohio.edu/people/sharpe)
Please send comments to
All rights reserved