The Buckeye House Rabbit Society
Our Favorite Photos
Album 3
---
Joey and Buddy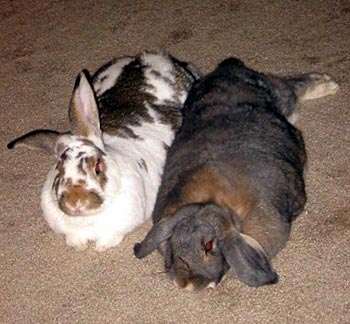 Andrea and Mike Markey tell us that Joey and Buddy are fully bonded! Buddy loves to clean Joey's ears, and they are so cute when they lay next to each other.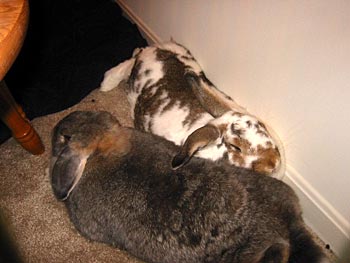 ---
Sadie
Congratulations to David, Annie, and Buns. They have taken Sadie into their home where she has become a much loved addition to the Schmidt family.
---
Wild Boy
Submitted by Chris Clark & Vince Mazeika, Columbus OH
Bunnies in Action

Another Adventure!

Bunnies & Friends

Wild Boy taking his medicine (Rimadyl)
-- Chris is helping him!

Bunnies in Action

When you're done with the comics,
can I have them?
---
go to beginning
Travis and Hektor, bonding
Heidi Metzger's Travis and Hektor during one of their bonding sessions in a dry bathtub --

---
go to beginning
Harry, Fluffy, Chocolate, Peter, Snowflake
| | |
| --- | --- |
| Hello, my name is Miriam and I am the proud owner of 5 house rabbits, 2 jersey woolies, 2 dwarfs and 1 mini lop. My "boys" are all neutered, bonded and living happily together in a small room of their own. I am always looking for information on Rabbits and other people in the Cleveland area who love them as much as I do. | |
| | |
| --- | --- |
| I love cuddling with my "boys" and have taken all of them to work at 1 point or another and I now have many other people thinking about the possibilty of owning a rabbit. | -- Miriam Palevsky |
go to beginning | contents | homepage
---
This page is maintained by David Sharpe (www.ohio.edu/people/sharpe)
Please send comments to
All rights reserved