go to homepage
The Buckeye House Rabbit Society
Buckeye Alerts
---
Whole Foods Protest Day August 17, 2014
written by Linda Gardner & Stephanie Lodge
On August 17th, ten rabbit advocates -- Stephanie & Phillip Lodge, Linda & Mark Gardner, Katie Straka, Kyra Kester, Christina Collins, Lane Ferrante, Cindy Slezak, Stephanie Smanto -- gathered in Cleveland, OH, to protest the Woodmere Whole Foods carrying domestic rabbit meat in their meat counter. This protest was in unison with about forty other nationwide protests at Whole Foods (WF) locations. Most of us were a little nervous at first; until we all realized we were in the same boat.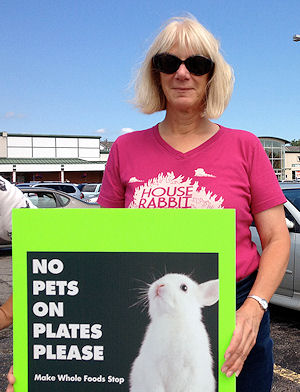 Cindy
We decorated all our cars with rabbit ears and pink noses and then placed large posters visible for anyone to see. The store manager asked us to move away from the front of the store and explained we could stand on the grassy areas in front of the shopping plaza facing a busy Chagrin Blvd.
The manager came out again and tried to make us leave the area where he told us we could be. Mark Gardner said, "When you get the owner of the property to call me and ask us to leave, we will". The manager got a bit frustrated and said he was calling the cops.
We tried explaining as he walked away, "we are not asking people to boycott WF, we like shopping there. All we are asking is that you stop carrying rabbit".
The police did show up and to our surprise, they were super-nice and never confronted us, as we were on public property despite what the WF manager tried to tell us. The highlight of the experience was at the end; one policewoman requested some of our literature from Stephanie. The officer is vegan and wanted to help support our cause!
Sadly, we did have one strange lady who accused us of discriminating against pigs, cows, and chickens. We tried to patiently explain to her -- that was not our battle today. Today, we are speaking out for our bunnies, who are our pets.
Interested in helping???

Sign our petition. Please go to www.change.org/petitions/wholefoods-please-do-not-sell-rabbit-meat-in-your-stores Or just google "Whole Foods petition". Visit www.wholefoodsmarket.com and tell them how you feel about them selling domestic rabbits as meat.

We would like to say a special thank you to Linda & Mark Gardner for their extensive color printing, sign making, bunny ears for people and cars, leadership, and positive attitudes. Their time and hard work made a world of difference to the cause.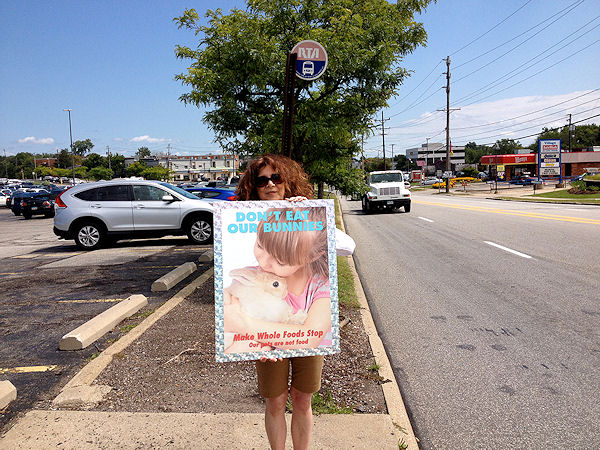 Lane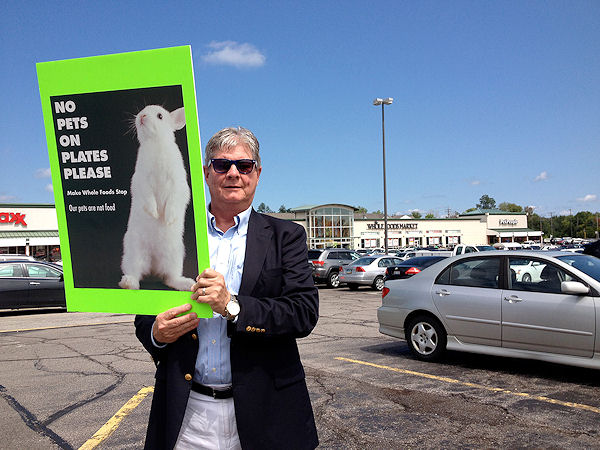 Mark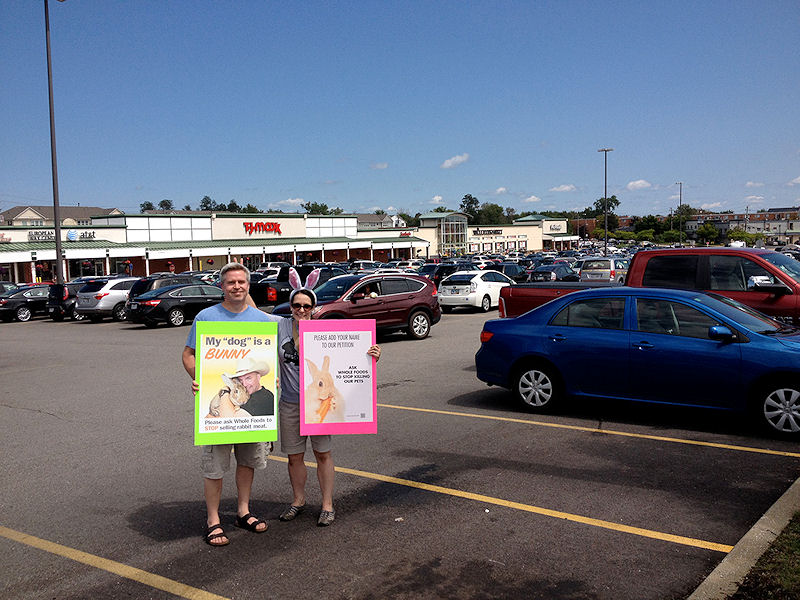 Phil and Stephanie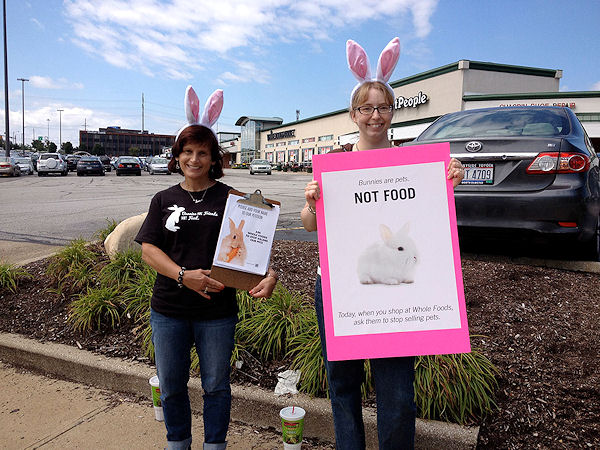 Katie and Christina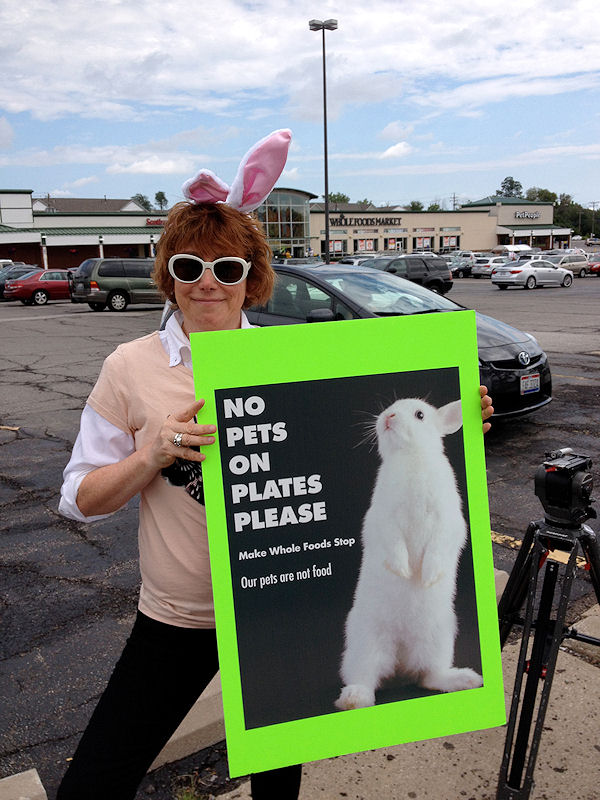 Linda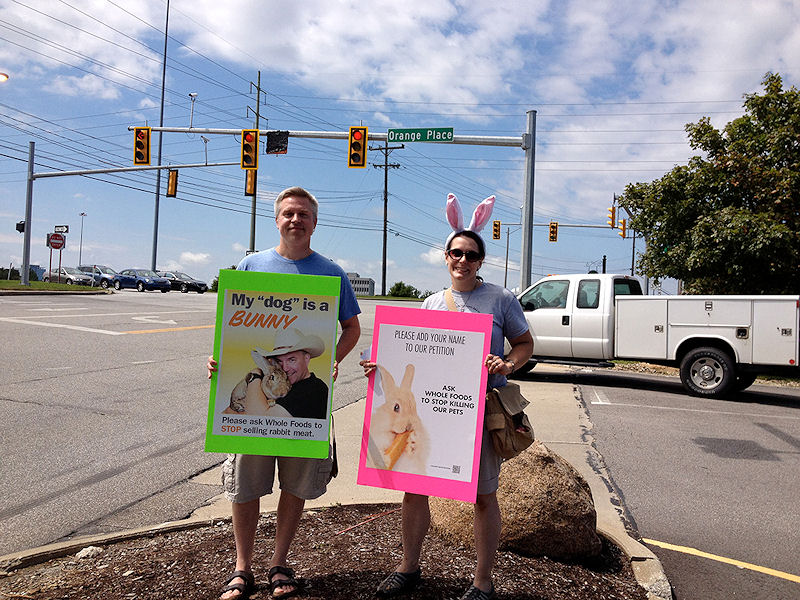 Phil and Stephanie
---
Companions Are Not Food July '14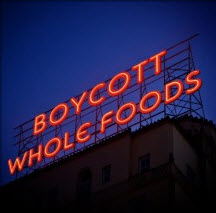 Whole Foods is testing the market for "rabbit". On behalf of rabbits everywhere, and your own special pets, send a clear message to Whole Foods about the marketplace. DON'T SHOP where these wonderful critters are sold as meat. Let them know they are losing your business -- and your loyalty.
See more about the campaign to Boycott Whole Foods, supported by the national House Rabbit Society.
---
Your Own Bunny Times 375 June '13
Our neighbor, the Indiana HRS, is overwhelmed. Authorities confiscated 375 rabbits from a single home. The Buckeye HRS is fostering a number of these bunnies and we need your help to cover their spay/neuter expenses. Every dollar helps. Every adoption helps. Please pitch in by going to our online donation page and identify your contribution with the message Indiana. Every one of those 375 buns could be just as sweet and smart and happy as yours.
---
A Broken Leg; An Unbroken Heart April '13
by Stephanie Lodge, Cleveland-area fosterer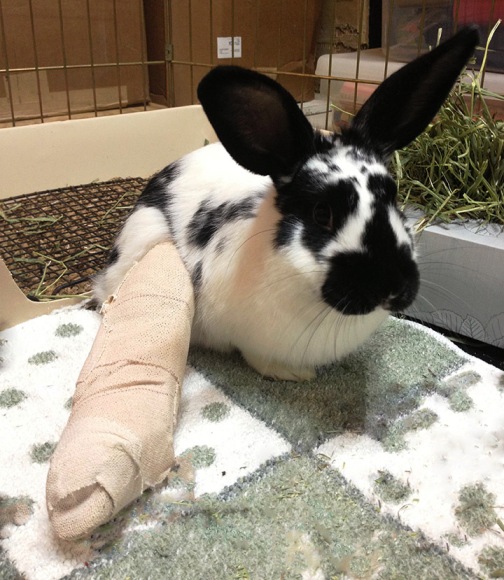 Back in March, I received a call from a frantic lady needing help with a bunny who had broken his leg. Her five-year old son, playing with the bunny unsupervised, had accidentally dropped him. The bunny, now named GusGus (short for Gustavo), got his leg stuck in the top of his cage and was hanging from the cage tangled and broken.
The lady had called me to find out if we could euthanize GusGus. My first thought was "if you broke your leg, we wouldn't kill you." Given the circumstances, I agreed to accept GusGus into foster care and immediately took him to Dr. Riggs, rabbit vet extraordinaire, for an examination. While the initial decision was to amputate the leg due to the severity of the injury, Dr. Riggs was able to save his limb. After a complicated and costly surgery, GusGus is in a cast and slowly healing. His personality is wonderful and everyone who meets him falls in love – it also doesn't hurt that he is quite the looker.

This horrible accident reminds us that while children can be wonderful playmates for rabbits, a responsible adult must always supervise their time together. We must also make sure that the children understand that rabbits should not be picked up or carried around. Bunnies can be unpredictable, but with the correct knowledge accidents like this can be avoided.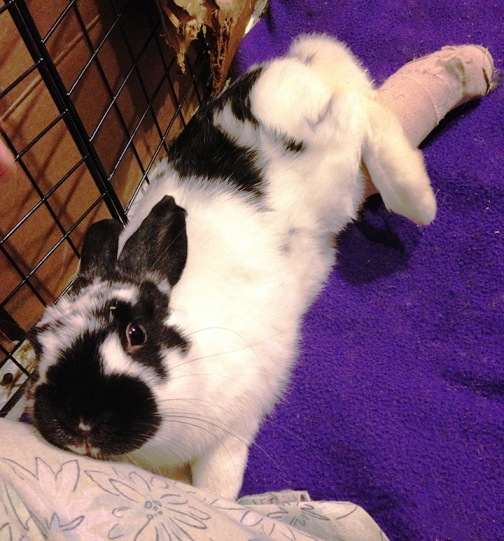 As you can imagine, Gus's expensive surgery and his follow-up vet visits were unexpected, so we need your help.
Please send a donation to Buckeye House Rabbit Society, P.O. Box 61, Vickery OH 43464 (checks payable to "Buckeye House Rabbit Society", please write "GusGus" in the memo). Or give through Paypal or a credit card by clicking Donate On-Line. The Buckeye House Rabbit Society runs strictly from donations, and all donations are tax-deductible.
GusGus and all of the other bunnies THANK YOU for your generous support!
---
Unexpected Medical Expenses May '11
Buckeye HRS has had several large unexpected veterinary expenses recently and our medical funds are getting low. Any amount you can donate towards veterinary care would be most appreciated. Thanks in advance.
These little ones have recently received vet care --
Winnie is a very sweet but timid bunny who came to us from the APL several years ago. She's generally been in good health, but has all of a sudden developed a slight head tilt. She was hospitalized for several days for testing and treatment and is currently being treated with antibiotic injections, an anti-inflammatory, and anti-vertigo medication. She's doing very well and no longer loses her balance, although her head tilt remains.

Ellsworth was hospitalized for several days for treatment of a severe upper respiratory infection. He finally succumbed to the infection and now Ellsworth's partner Alma is being treated for a mild case of the same. Her treatment includes nebulization and antibiotic injections.

Isabella was rescued in December 2010 from a local shelter that informed us that she had been urinating blood. They had noticed potentially cancerous tissue in her abdominal area during her spay surgery and since they couldn't help her any more, they were going to euthanize her. One of our volunteers stepped in and took her to Barberton Veterinary Clinic, where Dr. Riggs performed major surgery. He removed a cancerous growth the size of a softball that was adhered to and tangled up in her intestines. Amazingly, Isabella recovered quickly and is now a healthy, happy bunny. She's had several follow-up visits with Dr. Riggs and continues to do well; however, she developed a sudden weakness in her back left leg. She went back to see Dr. Riggs, who ran x-rays that showed some degradation of the leg bone, so he put a splint on it to see if it might help to keep pressure off it for a few days. The splint is now removed and she is getting around much better. She also no longer needs to take the two daily pain medications that were prescribed to her. Best news, Isabella has been adopted!

---
19 Rabbits in Willoughby Need Your Help! May '08
Kristen Doherty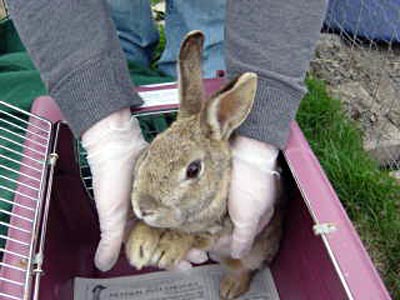 In early April we received a call from a dog and cat rescue group about an elderly man who was having difficulty caring for 19 rabbits. He started with only 3 or 4 and was concerned that they would multiply quickly. They were living outdoors in an enclosed chicken wire pen that he built in his backyard and had set up as a "playground" for them. It had a children's slide, some wooden ramps, and a rusty old swingset to play on. In the middle of the playground was a low flat structure made of cinder blocks and a plywood roof. This was their "shelter" for the past 4-5 harsh Cleveland winters.
When I arrived on the scene, there they were -- 19 scruffy-looking bunnies -- digging, chasing, playing, eating, and sleeping on a floor of mud and feces. They seemed to be having a ball with all of this outdoor freedom, but the reality was that they were drinking dirty water from a rusty bucket, eating pellets off of the ground, and had no access to hay. Several rabbits needed immediate medical attention. There were visible abscesses on some of their bodies due to fighting, as well as tattered ears, torn noses, and matted, dirty fur.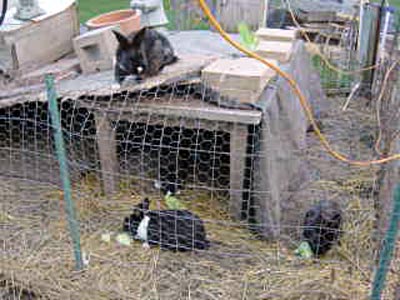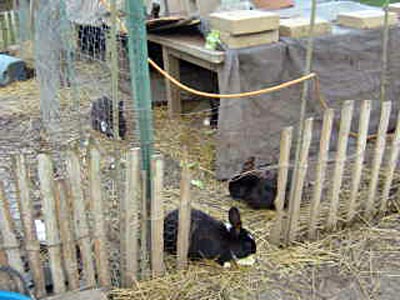 After assessing them all, I packed up 6 bunnies the first day, brought them to my house, and took them to get spayed and neutered. The goal was to get all of the females spayed as soon as possible to prevent them from reproducing. A few days later, Katie and I returned to retrieve another 4 and immediately transported them to Barberton vet for surgery and treatment. Two days later, I retrieved the remaining 9 rabbits and took them to the vet as well. At the time this newsletter went to print, all (except one) are spayed and neutered. During the spays, we learned that all of the females were in the early stages of pregnancy. By acting quickly, we were able to prevent an estimated 7 litters that could have potentially resulted in some 56 babies.
Thank you to Barberton Veterinary Clinic for scheduling and performing 19 spays and neuters so quickly. Barberton was able to treat all of the superficial wounds and some other minor issues. Thanks also to Katie Liepold who helped to trap, sex, and assess the bunnies on-site. Katie is also caring for 2 of the females in her home.
Until they recover from their spay/neuter surgeries and until their wounds fully heal, they will remain in foster care. Many of them, unfortunately will have to be returned to the man's house until we free up space in our foster homes to take in one or two at a time.
If you would like to help with donations, here's what we still need:
- money to cover spay, neuter and other medical costs (send to: Buckeye House Rabbit Society, P.O. Box 61, Vickery, OH 43464)

- Oxbow timothy hay and/or timothy pellets (contact Kristen)
Please contact Kristen Doherty (440-543-4959) if you are interested in adopting one of these cute little bunnies or if you would like to donate Oxbow hay/pellets.
Thank you for your generosity. Adopting a bunny from the Buckeye HRS means that one of these outdoor bunnies can now come into a foster home and receive the proper care.
---
Great News!
PetSmart Stops Sale of Rabbits
December '07
Thanks to your phone calls, letters and emails, we have just learned that PetSmart is discontinuing the rabbit sale "test" and will no longer be selling rabbits in any of their stores, once the remaining rabbits are gone.
This is wonderful news, and is a fantastic Christmas present to all animal lovers, and especially to all of the rabbit people who have been active in this campaign. We have heard that it was because of the vocal opposition of animal lovers across the United States that they have reconsidered their choice.
Please thank PetSmart for their decision, and let them know that it was the right choice.
Address your thanks to PetSmart care of:

PetSmart
John Alpaugh
Vice President, Specialty Merchandising
19601 North 27th Avenue
Phoenix, AZ 85027
(623) 580-6100
corpcommunications@ssg.petsmart.com

PetSmart's Sale of Rabbits July '07
Regrettably, PetSmart has decided to sell rabbits. The House Rabbit Society national site provides information on this development, and an open letter asking PetSmart to change its mind. Every rabbit sold reduces the possibilities of adoption for our homeless ones. You can help -- send your own copy of the letter to PetSmart as soon as you can. The more that arrive as a timely, collective statement, the more effect the letters will have.
The following links will take you to the national site --
---
The Lorain Crisis: please contact the Cleveland APL May '07
Roughly 35-40 rabbits remain at the house. The family has taken 15 or so to the Cleveland APL where they've been placed for adoption. Many have already been spayed/neutered from last year (those who are not will be spayed/neutered by the APL before they are adopted) and are well-cared-for there. They all appear to be in good health. If you would like to adopt any of these very friendly bunnies, please contact the Cleveland Animal Protective League at 216-771-4616 (www.clevelandapl.org).
---
The Elyria Sixteen October '06
A few weeks ago, we received a call from another lady in Elyria needing help placing bunnies she rescued from a neglect situation. We have already adopted two to a good home and have taken another eight into foster care. Since the remaining sixteen are still living in outdoor hutches, they are badly in need of indoor homes.
Most of these rabbits are lionheads, lionhead/angora mixes, or mini rexes with very, very sweet, docile personalities. The two I have adopted out, and all of the ones I currently have in foster care, love human attention. I would consider them "lap bunnies". They have very gentle personalities and would also do well with families with children. Most of the bunnies are four to six months old.
If you are interested in meeting or adopting any of the bunnies you see, please contact me at:
Kristen Doherty
Aurora, OH (Cleveland)
440-543-4959
---
Great Lakes Brewing Company update April '06
Great Lakes Brewing Company has removed rabbit from its menu. Kami Dolney, Marketing Coordinator, tells us that "we have kindly listened and responded ... and will not be serving rabbit any longer. ... We value our customer base and strive to provide our patrons with the best Customer Service as possible. All comments/suggestions to help us achieve this are always welcome ..." To those individuals who contacted GLBC about this issue -- our companion animals thank you!

Beer Boycott February '06
Sadly, we have learned that Great Lakes Brewing Company in Cleveland is now serving rabbit, as it "expands" its menu for special events. For example, they featured a rabbit dish for their January 10 Brewmaster's Dinner.

We urge our readers to contact GLBC (coordinates below) to respectfully and politely request that they remove rabbit from their offerings.
Kami Dolney
Marketing Coordinator
Great Lakes Brewing Company
2516 Market Avenue
Cleveland, Ohio 44113

216-771-4404
www.greatlakesbrewing.com
---
Crisis in Lorain County October '06
Update by Kristen Doherty
The more than 50 Dutch rabbits at the house in Lorain County continue to be at risk. We have found homes for many, but because our adoption and education process is thorough and time-consuming, placing these bunnies in good homes is slow. Since the Buckeye HRS continues to rescue other rabbits throughout the state, we are not able to take the Lorain County rabbits into our foster homes on a consistent basis. Nor are we able to take in a large number of these rabbits all at once.
Despite this unfortunate situation, there is a bit of good news. All of the rabbits are maintaining good health as long as volunteers continue to go out to the home on a somewhat regular basis (usually twice a month). The work these volunteers do goes a long way in preventing illness; keeping the cages clean and handling the bunnies to check for any signs of illness are key to preventing respiratory problems, malnutrition, and other symptoms brought on by chronic neglect.
As far as we can tell, there has been only one new litter since February of this year. Now that Dr. Mandel is set up in his new clinic, he is able to continue spaying and neutering these bunnies until every rabbit in the house is fixed. We are hoping to get these remaining bunnies spayed/neutered very soon.
Unfortunately the resident is still at risk of losing her home due to missed mortgage payments and the bank is on the verge of starting the foreclosure process. I anticipate a phone call any day, with a date by which the bunnies must be evacuated. If we cannot find homes within 1 to 4 days, we will have to contact a shelter to plan for humane euthanasia of those we cannot take into foster care.
If you are able to adopt even one of these sweet bunnies, or can help with any of the following, please contact Kristen Doherty by phone 440-543-4959.
You can help by:
Taking in one or more of these bunnies temporarily until we can place them into one of our foster homes, or into a permanent home.

Transporting small groups of rabbits to/from the vet (between Elyria and Shaker Heights)

Cleaning cages, feeding and watering the bunnies (typically on a Saturday or Sunday)

Dropping off supplies to the lady's house (pellets, hay, cleaning supplies)

Making a financial contribution

Donating large exercise pens and/or dog crates
A truly heartfelt thank you to all those, especially the volunteers, who have given their time, supplies and/or monetary donations. Thank you all for your continued support, and please consider taking one of these bunnies into your home permanently or temporarily.
---
Crisis in Lorain County January '06
Can You Help? – 85 Bunnies Still Need You
by Kristen Doherty
Buckeye HRS Fosterer/Educator
440-543-4959
The Buckeye House Rabbit Society urgently needs your help in placing about 85 remaining bunnies in temporary and permanent homes. The good news is that we've placed roughly 20 so far, but we still have a long way to go.
In October 2005, we became aware of a situation in which a woman was hoarding approximately 100 rabbits in her home and detached garage. Another woman, who had been trying to help, became overwhelmed after removing over 50 rabbits from the home. She called us to see if we could take over. After several attempts to get into the home, we were finally successful and the homeowner was somewhat cooperative. Our first goal was to capture and separate to prevent any more litters and also to keep them from injuring each other and themselves. We immediately rounded up and separated rabbits in the garage and the basement, but we were not able to catch many of the rabbits living in the floorboards and the rafters of the attic. Rabbits were running loose in the bedrooms, basement, garage, and attic. They were living in filthy conditions and some were even escaping from the garage and running loose in the neighborhood. Most of the rabbits are in good health, thankfully, and are now consistently fed pellets, hay, and water. We have captured all of the rabbits running loose outdoors and all living in the garage have been captured and placed in cages in the basement. The bunnies in the attic have also been captured and are now in cages.
The homeowner is currently at risk of losing her home, and if she does, all of the rabbits will have to be moved out at a moment's notice. We need to find homes quickly or they may be destroyed. Local humane officers and shelters are very reluctant to get involved, so a small number of Buckeye HRS volunteers is trying to manage the situation. She is allowing us to come in to clean cages, capture rabbits, bring supplies, and transport groups to/from the vet for spay/neuter. The woman does not work and is therefore unable to afford hay, pellets, basic supplies, and veterinary care. So far she has been cooperative and is willing to have us find homes for as many rabbits as possible. We are keeping our fingers crossed that she is able to keep the house until we can get them all into permanent and foster homes. We are calling on our members to help us save these bunnies by taking one or two into your home.
Approximately every two weeks, at least two volunteers go to the house for 5-8 hours at a time. We very much need more people to help us with this task; the more people helping, the better. We are just now starting to see the results of our attempts to educate and train the owner and her children (ages 6, 8, and 11). The kids are eager to help us when we are there; we have taught them everything we can, from how to tell males from females to how to hang water bottles so they don't fall off the cages. Keeping the cages clean was our biggest challenge; it simply wasn't getting done. During the Thanksgiving holiday, the owner broke her leg and was in a cast for two months, which made cleaning and basic care more difficult; she had to rely on the kids and a small number of Buckeye HRS volunteers to do most of the work.
Until recently, one to two litters were born every week. Although we had taken great pains to separate males from females, when we left the house, the family would let multiple unaltered rabbits out of their cages at the same time without regard to their sex. This was out of our control, despite our efforts to educate and plead with them. Over the last few weeks, however, it seems our efforts have paid off, and the owner and her kids are more conscientious about whom they are letting out, trying not to let unaltered males and females out at the same time.

The rate of litters being born has declined considerably. Dr. Mandel of Lyndhurst Animal Clinic (Lyndhurst, OH) has graciously offered his services to spay/neuter all of the rabbits. He has already spayed 45, and is scheduled to alter all of them over the next few weeks. Dr. Mandel, his daughter Julia, and his assistant Chris, have prevented many new litters from being born and it is thanks to them that the situation is now under control. If it weren't for Dr. Mandel and his dedicated team, we would not have been able to turn this situation around so quickly.
The rabbits, for the most part, are all very healthy and are between the ages of three weeks and three years old. We've identified only a few needing medical treatment and they have received the necessary care. The Buckeye House Rabbit Society has been able to take only a few of these rabbits into foster care since all of our foster homes are full. Our overall adoptions have been somewhat slow, so if you are at all considering adding a bunny companion to your family, now is the time to help one in need.
We still very much need volunteers to help clean cages and make sure the rabbits are fed. If you are able to assist with feeding and cage cleaning, providing a temporary or permanent home, or spay/neuter recovery, please call Kristen Doherty in Cleveland (440-543-4959).
We received several donations at the beginning of this crisis; however, money and supplies have dropped off and we still need ongoing support. The Columbus HRS stepped up immediately, sending several large dog crates and a number of brand new starter cages that someone had donated. We could, however, still use more large crates, exercise pens, hay, pellets, and food dishes. Thank you for any help you can provide in this situation!
WISH LIST
Monetary donations
Exercise pens
Timothy and alfalfa pellets
Bales of timothy hay or shipments from Oxbow Hay Company to one of our foster homes
Alfalfa hay (for babies)
Large dog crates in good condition
Wood stove pellets (for litter) or other safe litters
Small/medium-size litterboxes
Small, heavy crocks for food and water
Monetary donations, payable to the Buckeye HRS and marked Lorain County Crisis, may be sent to:

Buckeye House Rabbit Society
P.O. Box 61
Vickery OH 43464
---
Crisis in Lorain County September-November '05
Can You Help These Bunnies?

Buckeye HRS volunteers have learned of a very serious rabbit overpopulation situation in a private home where 80-90 rabbits are running loose in the bedrooms, basement, garage, and attic. Volunteers are currently trying to round up, separate, and provide cages for all of these rabbits. We need to find homes for them quickly or they may be at risk of being destroyed.

Volunteers are currently working with the owner to get these rabbits separated to prevent any more pregnancies; there are currently 1-2 litters born every week. Most of the rabbits are in good health and are being fed pellets and water, however, they are living in filthy conditions and some are even escaping from the garage and running loose in the neighborhood.

We currently need donations of cages, carriers, humane traps, hay, pellets, food dishes, and water bottles. We also welcome any monetary donations for veterinary care, especially for spay/neuter surgeries.

What we need more that anything else are both temporary and permanent homes for these sweet little bunnies. If you think you can help, please call Kristen Doherty at 440-543-4959.

Send donations to:

Buckeye House Rabbit Society
P.O. Box 61
Vickery OH 43464

Thank you!
---
This page is maintained by David Sharpe (www.ohio.edu/people/sharpe)
Please send comments to
All rights reserved