The Buckeye House Rabbit Society
---
And the winner is ... Beth Smith of Akron, OH. Congratulations to Beth and many thanks to all who supported the Buckeye HRS through the purchase of raffle tickets. Proceeds will allow us to make the future brighter for more needy bunnies in Ohio.
Ohio artist Angela Cizl has generously donated this enchanting sculpture -- entitled "Treat!?" -- for our second annual holiday raffle.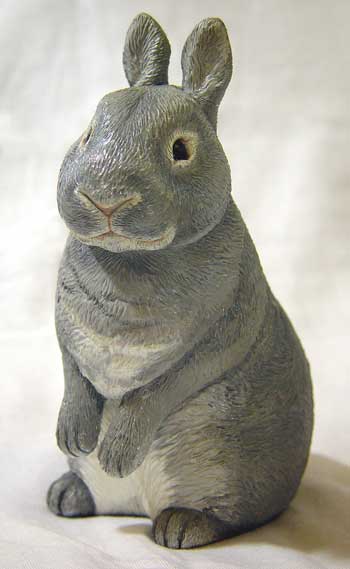 All proceeds will go directly to our foster program and will ensure that needy bunnies have a safe haven while they await the ultimate treat, a permanent home. Tickets cost $1 each and you may buy as many as you wish. All entries must be postmarked no later than December 1, 2006. Please include your phone number and email (if available) with your check or money order and indicate it's for the raffle. Mail your request to: Buckeye HRS, P.O. Box 5767, Athens, OH 45701. The lucky winner will be notified in early December and will receive the sculpture in time for holiday gift-giving.
Artist's Statement

"Treat!?" measures approx 7" by 4". This polymer clay sculpture was inspired by my fun little bun, Brody. Treat time is his favorite time. Of course! The anticipation turns my shy guy into quite the little charmer. Sometimes I swear he winks and smiles at me.
Angela Cizl does commissioned realistic and character sculptures of pets and wildlife of all types. For more info, please email inquires to acizl@hotmail.com.
---
This page is maintained by David Sharpe (www.ohio.edu/people/sharpe)
Please send comments to
All rights reserved