The Buckeye House Rabbit Society
---
And the winner is ... Theresa Nagy of Pittsburgh, PA. Congratulations to Theresa and many thanks to all who supported the Buckeye HRS through the purchase of raffle tickets. Proceeds will allow us to make the future brighter for more needy bunnies in Ohio.
Just in time for holiday parties, Ohio artist Melyssa Rohrs has generously donated a set of four charming and whimsical "Buntini" glasses for our third annual holiday raffle.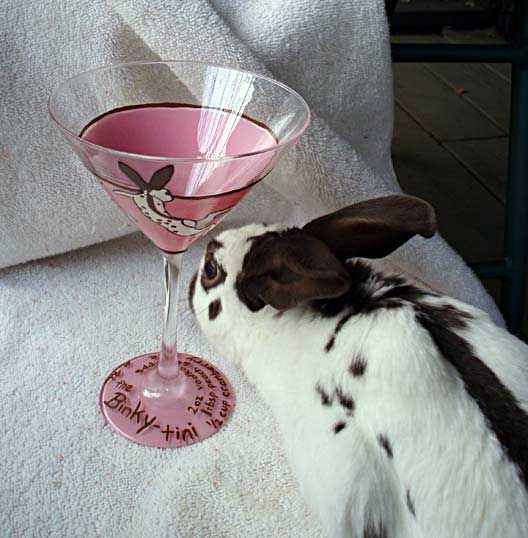 Each glass features a different rabbit-inspired martini recipe on the foot and a corresponding hand-painted cartoon on the glass itself. The Binky-tini, our favorite, is sure to have you kicking up your heels and in a festive mood! All proceeds will go directly to our foster program and will ensure that needy bunnies have a safe and happy holiday season while they await the ultimate gift, a permanent home.
Tickets cost $1 each and you may buy as many as you wish. All entries must be postmarked no later than December 1, 2007. Please include your phone number and email (if available) with your check or money order and indicate it's for the raffle. Mail your request to: Buckeye HRS, P.O. Box 5767, Athens, OH 45701. The lucky winner will be notified in early December and will receive the glasses in time for holiday entertaining or gift-giving.
| | | |
| --- | --- | --- |
| | | |
| Binky-tini | | Bunny, It's Cold Outside |
| | | |
| Make Mine Chocolate-tini | | The Dirty Martini |
Don't trust your luck? The entire line of Buntini glasses can be purchased directly from the artist. Melyssa will even customize glasses with your bunny's image or your favorite recipe. Plus, she donates 20% from the sale of each glass to the Buckeye HRS. Now that's something we can all drink to! Visit Melyssa's website – www.ninnerfish.com – to see and buy her wonderful artwork. Purchases can also be made through Etsy: www.ninnerfish.etsy.com
Artist's Statement

Buntini Glasses were inspired by the antics of one W.G. "Snuffy" Walden Dangerbunny Siebel Rohrs (a lot of name for a lot of personality), my adopted gremlin … err … house rabbit. One night, while watching him perform his little interpretive dances across the living room, I was inspired to create the "Binky-tini". The finished product got so much positive response that I just kept going with the theme. Not being a huge fan of vodka martinis, I scoured the web for martinis with more palatable ingredients. Mmm … peach schnapps … now that's more my style!
Melyssa Rohrs also does commissioned portraits of animals, pets, and people. For more information, contact her by email at rohrsml@yahoo.com or visit her website, www.ninnerfish.com. Mention the Buckeye HRS when you place your order!
---
This page is maintained by David Sharpe (www.ohio.edu/people/sharpe)
Please send comments to
All rights reserved