The Buckeye House Rabbit Society
---
OUR WINNERS
Our main prize winner is Mary Bujak of New Jersey. Congratulations!
Our voucher winners are: Randy Roberts (New Mexico), Gary Savage (Ohio), Jason & Jill Szabo (Australia!), Nicole Planchon (California), Suzanne Lamberg (New York).
We sold 382 tickets. That's better than last year's spring raffle by $45! Not too shabby in a floundering economy. The $382 will go a *long* way in helping our foster rabbits.
This is all thanks to Scottish artist Annette Tait who has adopted us not just by donating the handbag, but by fiercely promoting our raffle and our cause on her blog. That's really special.
Thank you, Annette ...
Here is a beautiful handmade bag of Arabella, my rescue rabbit. She is wearing her favorite huge-red-flowers-amid-foliage jumper. This is a beautiful 100% cotton with a visible twill type effect. It is very soft to the touch and the reds are a bright vibrant color.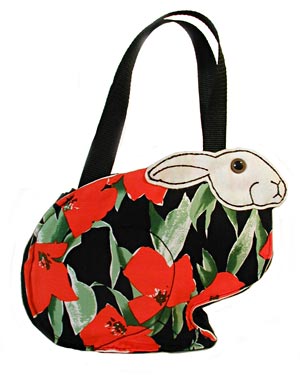 When going on a special outing, why not take your art-accessory bag with you? Arabella loves going out and meeting new admirers. When at home, she loves to doze on a shelf while being admired by your house guests. She has delightful brown eyes and a sweet expression.
The bag is made of machine and hand sewn parts. The straps are of a strong black webbing. The sides are padded to give the body shape. The lining is a found soft cream cotton. A small pocket has been added which can hold a cell phone. The pocket is part of the same flower material. A small metal popper will keep the bag closed.
The edges are hand and machine sewn together with finished seams out. The base and chest are of a black felt. It has a thin fleece padding. The face is hand painted in waterproof Gutta on a found white felt base. The legs have been drawn in with black fabric pen and machine stitched over. The plastic safety eyes are secured from inside.
Length approximately 11 inches (28 cm) x height 8 inches (21 cm) x depth 2.5 inches (6 cm). Handle height from ears is approximately 5 inches (13 cm).
Due to the small bits here and there, this bag is not recommended for children under three.
Of her handiwork, Annette says: "This bag has been lovingly made and has a few 'my gosh!' and 'tut, tut' parts due to the hand sewing and sometimes erratic machine sewing. Arabella looks super in her bright flowers and I know she will make you very happy."

In addition to our main prize, Annette is donating a $10 voucher to each of five runners up, towards anything in Annette's shop.
All proceeds will go directly to our foster program and will ensure that needy bunnies have a safe haven until they find the happiness of a permanent home. Tickets cost $1 each and you may buy as many as you wish. All entries must be postmarked no later than March 25, 2010. Please include your phone number and email (if available) with your check or money order and indicate it's for the raffle. Mail your request to: Buckeye HRS, P.O. Box 5767, Athens, OH 45701.
If you prefer, you may use PayPal for ticket purchases of $5 or more.
The lucky winner will be notified before Easter.
Artist's Statement

I live in Scotland and am a member of Etsy for Animals. I am a proud rescue mum to two precious gentle rabbits. I also donate 20% from every pet portrait I do to the rescue of choice.

I look forward to bequeathing more funds your way in the future. When I read the story of Malcolm, I had tears in my eyes! He is so beautiful and looks like my little precious Zai, who is no longer with me. My little boy Wesley, featured in the photo below, had a shocking start to life but slowly he is becoming trusting, less biting, less charging, and now he grinds his teeth for an ear rub. It has taken a few months, but normally I find that it takes about one year before the bad memories go away and they find that the house is danger-free and only filled with love, joy, and happiness. Wesley is coming along nicely!

Annette Tait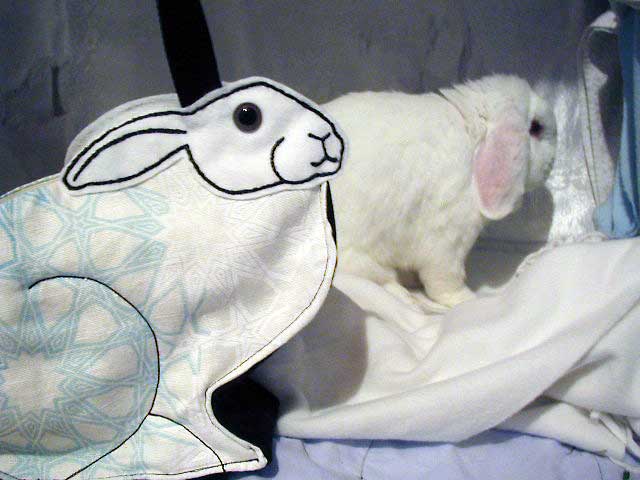 ---
This page is maintained by David Sharpe (www.ohio.edu/people/sharpe)
Please send comments to
All rights reserved