The Buckeye House Rabbit Society
---
WE HAVE A WINNER
Bernda Bacani of Seattle has won all of this!
Congratulations and warm thanks to all who supported the Buckeye HRS through the purchase of raffle tickets. Your generosity (and your hope) will allow us to make the future brighter for more homeless bunnies in Ohio.
Look what we've put together for you and your bunnies! How can you resist? Buy your raffle tickets online or by mail today!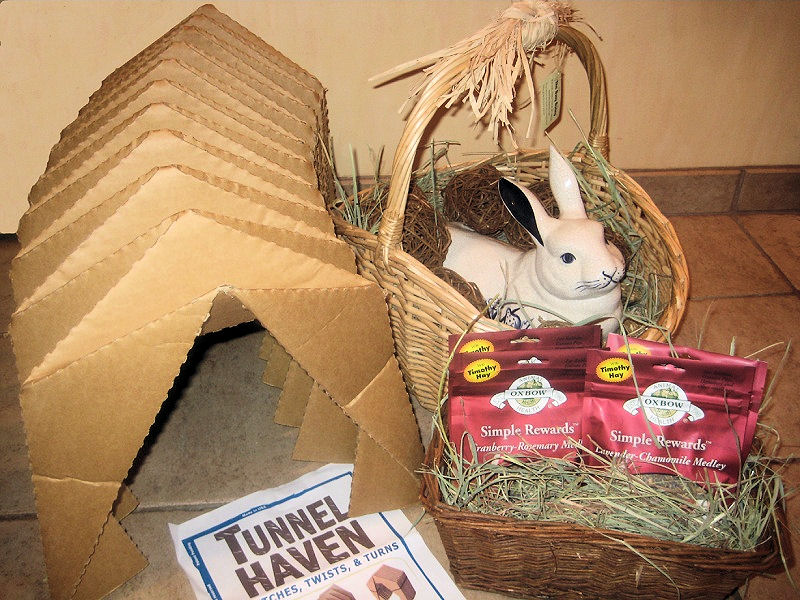 Included in our fourth annual springtime raffle --

The famous "Tunnel Haven," generously donated by Binky Bunny, is guaranteed to provide hours of entertainment for both you and your bun(s).

The amazing cardboard tunnel that stretches, twists and turns! Can expand in width and stretches in length, (over 5 feet!). Simulates a burrow feel that bunnies love!


It collapses to 7 inches. When you're ready to put it away, just collapse, fasten, and store in the Tunnel Tote Bag! Comes with 2 bungee cords and a tote bag.
All proceeds will go directly to our foster program and will ensure that needy bunnies have a safe haven until they find the happiness of a permanent home. Tickets cost $1 each and you may buy as many as you wish. All entries must be postmarked no later than March 31, 2012. Please include your phone number and email (if available) with your check or money order and indicate it's for the raffle. Mail your request to: Buckeye HRS, P.O. Box 5767, Athens, OH 45701.

If you prefer, you may use PayPal for ticket purchases of $5 or more.

The lucky winner will be notified before Easter.
---
This page is maintained by David Sharpe (www.ohio.edu/people/sharpe)
Please send comments to
All rights reserved