The Buckeye House Rabbit Society
---
And the winner is ... Stacie Hecht of West Chester, OH. Congratulations to Stacie and many thanks to all who supported the Buckeye HRS through the purchase of raffle tickets. Proceeds will allow us to make the future brighter for more needy bunnies in Ohio.
Just in time for that extra-special holiday gift, Northern Kentucky artist Mark Kerley is generously donating an 8" by 8" custom pet painting for our fourth annual holiday raffle. The winner will simply choose a favorite photo of his or her bunny and Mark will produce a painting.
Here is a sample of Mark's work. About this painting, Mark says: "This lil guy's name is Bun Bun and it's a memorial for a rabbit who had recently passed away. So I really tried to capture a little extra sweetness and put a big sparkle in his eyes."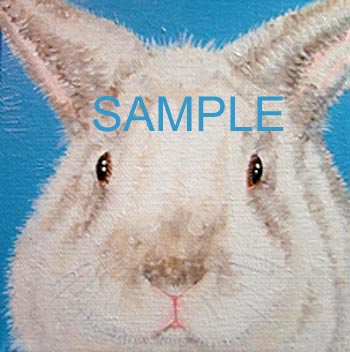 All proceeds will go directly to our foster program and will ensure that needy bunnies have a safe and happy holiday season while they await the ultimate gift, a permanent home. Tickets cost $1 each and you may buy as many as you wish. All entries must be postmarked no later than December 1, 2008. Please include your phone number and email (if available) with your check or money order and indicate it's for the raffle. Mail your request to: Buckeye HRS, P.O. Box 5767, Athens, OH 45701. The lucky winner will be notified in early December and will receive the custom certificate in time for holiday gift-giving.
About the Artist

Mark Kerley is an accomplished graphic designer and occasional artist. As the owner of Lucky Rabbit Studio, he not only provides quality design solutions but also donates 5% of his profits to the House Rabbit Society for the rescue and adoption of abandoned rabbits. Mark also enjoys the outdoors, books, and the wind in his face when out riding his bike. He and his wife, Cindy, reside in historic Bellevue, Kentucky with their house rabbit (and logo to Mark's company), Sophie.

Website: www.LuckyRabbitStudio.com Phone: 859-803-3293 Email: luckyrabbit@fuse.net
---
This page is maintained by David Sharpe (www.ohio.edu/people/sharpe)
Please send comments to
All rights reserved