The Buckeye House Rabbit Society
---
WE HAVE WINNERS!
The winner of our fifth annual holiday raffle is -- Paula Otter of Brunswick OH. Five runners-up each win a Funny Bunny Warning Sign by Pey Lu, the artist who donated the painting for our main prize. The lucky ones are Clare Bozek, Stacie Hecht, Jane Mcleod, Ann Younger, and Annette Tait.
Thanks to all of you who helped publicize the raffle and/or purchased tickets.
For our fifth annual holiday raffle, Toronto artist Pey Lu is generously donating a watercolor of her resident rabbit/part-time security guard, Charlie. Titled Charlie the First, his portrait is 7" by 9" nestled in a 12" by 14" antique wood frame.
The more you know about Charlie, the more you will want to see Mr. Charlie every day. See a complete profile about this watch-rabbit at Truth About Charlie, where you will meet his brother, Ted the Rottweiler, and learn what he loves more than dandelions. Find more photos at www.peylu.com/kids/charlie.html.
Charlie has also entered the blogosphere, thanks to our friend in Scotland, Annette Tate. Annette's blog, Dragon House of Yuen, gives us a wonderful account of Charlie's rescue, with a look at more of Pey's art.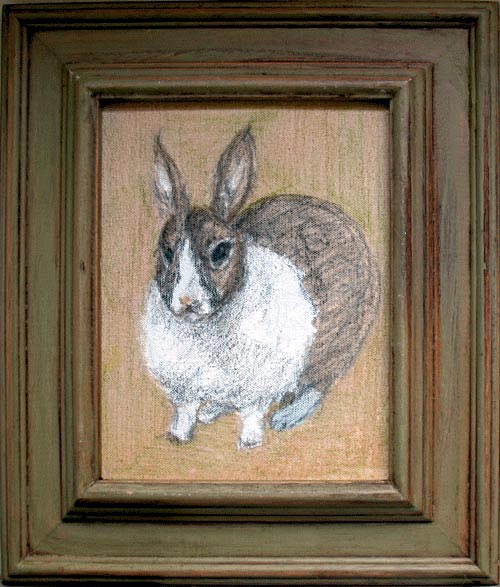 In addition to our main prize, Pey is donating an original Funny Bunny Warning Sign to each of five runners up. Make your own choice from the many charming original art tags at Pey's shop.
All proceeds will go directly to our foster program and will ensure that needy bunnies have a safe and happy holiday season while they await the ultimate gift, a permanent home. Tickets cost $1 each and you may buy as many as you wish. All entries must be postmarked no later than December 1, 2009. Please include your phone number and email (if available) with your check or money order and indicate it's for the raffle. Mail your request to: Buckeye HRS, P.O. Box 5767, Athens, OH 45701. The lucky winner will be notified in early December and will receive the watercolor in time for holiday gift-giving.
If you prefer, you may use PayPal for ticket purchases of $10 or more.
About the Artist

Pey Lu, a rabbit/dog caretaker and painter, resides in an old house by Lake Ontario with her husband and her animals. See more of her work and her background at her website, www.peylu.com, or email her (or Charlie!) at flyingdutchhare@gmail.com.
---
This page is maintained by David Sharpe (www.ohio.edu/people/sharpe)
Please send comments to
All rights reserved