We are especially fortunate this year to have TWO spectacular items from two generous artists for our Sixth Annual Holiday Raffle. You have TWICE the chance of winning, so don't delay, buy your tickets today!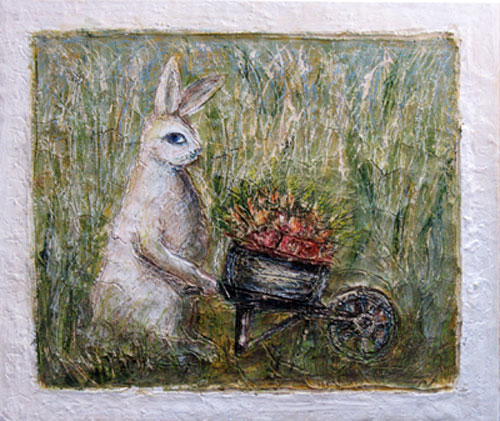 Toronto artist Pey Lu is donating The Harvest, a recreation of an original piece from her "Animal Wisdom" series. As Pey describes it, The Harvest is a musing in na´ve art -- there is no message other than to portray a simple manifestation of joy. The Harvest measures 10" by 12". As with any original art work, avoid exposure to direct sunlight or an open heat source.
Pey is also offering three Funny Bunny Warning signs from her Etsy shop to the runners up.
Of her artwork, Pey says: "I work in clay pictures, which I create by sculpting on a thin layer of clay on canvas or board and then gently layer with different paint media to achieve the finish and patina which typify my style and themes. The clay adds texture, crackle and a well worn look to a wide range of subject matter, mostly folk art based, but with an occasional urban twist."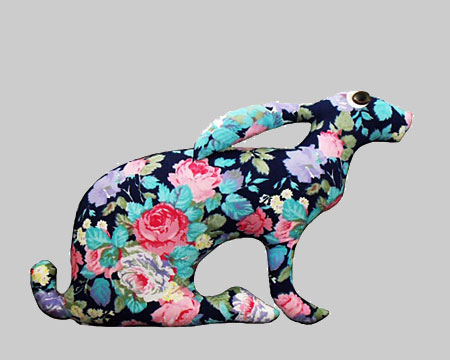 Scottish artist Annette Tait is contributing Mother Hare Fortuna, a textile ornament of a real-size mother hare to display fondly in your home. This soft sculpture is made from an upcycled printed cotton and has a polyfill stuffing. Mother Hare Fortuna measures 10.5" high by 18" long and she comes with a small tag telling her story.
Of her craft, Annette says: "Fortuna is a very beautiful and good mother hare and she looks after her babies well. Fortuna has been made with great care, machine and hand-sewn by me, and she will have many unique (imperfect, handmade) bits. Fortuna is looking forward to resting cozily on your arm chair and would appreciate an open door to your garden."
All proceeds will go directly to our foster program and will ensure that needy bunnies have a safe and happy holiday season while they await the ultimate gift, a permanent home. Tickets cost $1 each and you may buy as many as you wish. You may specify how many tickets you want entered for each prize or simply let us split them equally between the two items.

All entries must be postmarked no later than December 1, 2010. Please include your phone number and email (if available) with your check or money order and indicate it's for the raffle. Mail your request to: Buckeye HRS, P.O. Box 5767, Athens, OH 45701. If you prefer, you may use PayPal for ticket purchases of $10 or more. The lucky winners will be notified in early December and will receive their prize in time for holiday gift-giving.
About the Artists
Pey Lu, a rabbit/dog caretaker and painter, resides in an old house by Lake Ontario with her husband and her animals, including her house bunny Charlie. See more of her work and her background at her website, www.peylu.com. Annette Tait lives in Scotland and is a proud rescue mum to two precious, gentle rabbits. She donates 20% from every pet portrait she does to the rescue of choice. See more of her work at www.dragonhouseofyuen.co.uk and read her blog at www.dragonhouseofyuen.blogspot.com.