go to more Adopted!
contents
homepage
The Buckeye House Rabbit Society
Adopted!
volume 2
---
Simon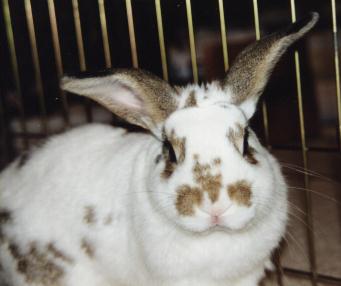 Tale of a successful adoption: "Kim Daniels and her Mom came over to my house to visit Simon, kind of spur-of-the-moment today! She fell in love with Simon. Kim is very excited and will be a very good Mom. Simon is now down on her farm (5 acres!) in Lodi. This is Simon's perfect family situation that he has been waiting for for a very long time." -- Kristen Doherty
---
Portia & Selby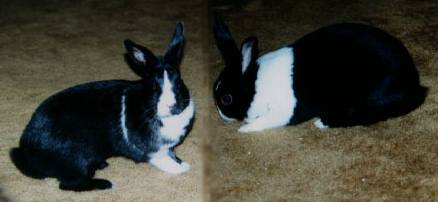 Portia and Selby are approximately two-and-a-half-year-old females who are good friends and were adopted together. They each weigh about 4 lbs. and are Dutch blends. They are used to cats, too. They now file their state tax returns in Indiana.
---
Bogart
Bogart, now answering to "Mace," has put down roots in Oxford, OH, with new friends Sidelia and Todd and lagomorph companion Fern.
Here are the vital stats that helped him find a home:

Bogart, a single young male, vegetarian, seeks that special someone who will provide him with all the comforts of a permanent, indoor home. This handsome young guy has excellent litterbox habits and a sweet, gentle disposition. Playful and energetic, he loves to be where the action is. Neutered and healthy! (visit Our Photo Album for more)
---
Tuttle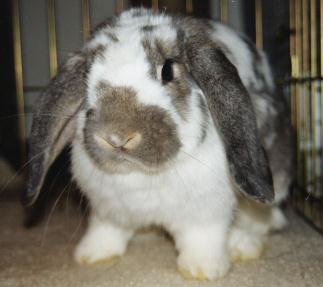 Tuttle (now called Fiji) has found a new home and friend in Tina. He is showing her how much hay a rabbit can eat and how fast he can run around her home. An extremely sweet 8 lb. male lop with huge feet, Tuttle loves getting petted and zooming through his cardboard tunnel.
---
Ditto
| | | |
| --- | --- | --- |
| Weighing just under 3 lbs., Ditto is a calm and affectionate little guy. He loves attention and especially enjoys zoning out on his back in the arms of a favorite human. | | Ditto is fortunate to have found a wonderful new home right in Vickery. Maureen and Chad report that he loves to explore his new surroundings, socialize with his feline and canine companions, or simply stretch out on the couch -- as long as there's a hand nearby to pet him. |
---
Flops & Snowbert
| | |
| --- | --- |
| These two extremely mellow neutered males have been buddies since the day they met and had to be adopted together. Even though they look nearly identical, they were rescued from separate situations and are experts at power lounging. | |
---
Skipper
| | |
| --- | --- |
| | This bundle of energy with a taste for adventure is exploring new surroundings with her new friends, Amy and Erick of Vickery, OH. |
---
Baxter
| | |
| --- | --- |
| With his gentle demeanor and good manners, Baxter is delighting the Block family of Baltimore, OH -- especially Courtney. | |
| | |
---
Monkey & Bitsy
| | |
| --- | --- |
| | Monkey didn't have far to go for his home; Kristen adopted her first foster herself. Monkey is a young, playful, and energetic male rabbit, 2 lbs, with a black coat. His favorite activity is running around humans and jumping over them, smothering them with kisses, then flopping on his side to receive long body pets. |
Bitsy is a sweet and gentle 2 lb. young female with beautiful black fur. She has excellent bathroom habits and loves to be petted. Adopted by Kristen and Paul, she is together with Monkey.
Seated: Paul and Kristen

Leaping: Bitsy, Monkey, Vicky, and Scooter
---
Rosie
In September, Rosie found a new, loving home . Rosie is a sweet girl, with a shiny black coat and a dab of white on her nose. She loves to receive pets and loves to run and dance around. Her litter habits are impeccable. She has gotten along with cats at a prior residence. She weighs about 9 lbs.

go to beginning | contents | homepage
---
This page is maintained by David Sharpe (www.ohio.edu/people/sharpe)
Please send comments to
All rights reserved