Check your mailing label for your membership expiry date.  Don't miss a single issue of Harelines — renew your Buckeye HRS membership today!  We're sorry, but in order to keep costs low, we cannot send out individual renewal reminders.
Has your membership EXPIRED?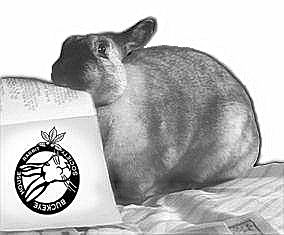 Back issues of Harelines
The following links use Adobe PDF format
Fall 2017 (Volume 21 Number 3)
Obesity in House Rabbits
Our Newest Volunteer!
Compassion Fatigue
Petition Kroger
Holiday Raffle
Funny Bunny Memes
Spring/Summer 2017 (Volume 21 Number 2)
Twenty Years, Hundreds of Rabbits
New Co-Chapter Manager!
Mythical Rabbits
Healthy Treats for Rabbits
Hay!
Our Sanctuary Sponsors
Winter 2017 (Volume 21 Number 1)
Entertaining the Disabled House Rabbit
Farewell to Caddy & Bogey
Which Rabbit is That?
Our Sanctuary Sponsors
Ode to Bugs
Renting with Rabbits
Fall 2016 (Volume 20 Number 3)
Luck Be a Lady Named Barb
Where Are They Now?
Mythical Rabbits (Part 2)
Introducing Our Newest Volunteer!
Spring/Summer 2016 (Volume 20 Number 2)
No means … Oww!
Where Are They Now?
Our Sanctuary Sponsors
Mythical Rabbits (Part 1)
Shop to Stop Testing on Rabbits
Winter 2016 (Volume 20 Number 1)
Elijah and Gunny Bunny
Picky Bunnies and Hay
Our Sanctuary Sponsors
Is Your Rabbit a Great Communicator?
Farewell to Raisin
Fall 2015 (Volume 19 Number 3)
Slowing Down
Tips for a Well-Groomed Rabbit
It's Fair Season
Traveling with Rabbits
Spring/Summer 2015 (Volume 19 Number 2)
Introducing Rabbits to Furry Friends
Artist Spotlight: Christy Monson Conner
Rabbit Poetry!
Be Somebunny's Hero
Farewell to Hoppington
Winter 2015 (Volume 19 Number 1)
Thinking Inside the Box:
Litterbox Training Your House Rabbit
The Buckeye HRS at BunFest 2014
A Lifelong Commitment
All Today Every Day
Fall 2014 (Volume 18 Number 3)
Cheaper By The Dozen
Cultivating Contacts
More Rabbit Tattoos!
Meet The Indiana Babies
Spring/Summer 2014 (Volume 18 Number 2)
I Like Big Buns And I Cannot Lie
A Tale of Two Loves
Rabbit Tattoos on People, Not Rabbits
Let Your Rabbits Choose Their Own Toys
Winter 2014 (Volume 18 Number 1)
Life With Prince W
My Eleven Rabbits
Farewell to Cinder
When a Bunny Needs a Nanny
My Rabbit is Peeing Red!
Fall 2013 (Volume 17 Number 3)
From Rags To Riches
Rabbit Fractures
Balancing Life
Trials and Tribulations of a Fosterer
Spring/Summer 2013 (Volume 17 Number 2)
The Power Of Two
Through The Years
Remembering Jackie
A Call for Help
Winter 2013 (Volume 17 Number 1)
The Musketeers
When Harry Met Daisy
On the Clock
Fall 2012 (Volume 16 Number 3)
The Harelem Globetrotter: A Rabbit Relocation How-To
Opposites Attract
Rabbit Anesthesia and Surgery
Farewell to Chester
Spring/Summer 2012 (Volume 16 Number 2)
The Rabbit-Friendly Child
Ozzie and Jojo
A Lifetime Commitment
Dealing With The Loss Of A Beloved Bunny
Winter 2012 (Volume 16 Number 1)
Our New Year's Wish List
Film Review: The Christmas Bunny
Bunny Shopping Spree!
"I found a domestic bunny running loose"
Fall 2011 (Volume 15 Number 3)
Going Green for Your Pets
Reverse Clicker Training
Brushing for Bucks
Don't Mess with Sydney
Spring/Summer 2011 (Volume 15 Number 2)
Pre- and Post-Operative Care
Be Somebunny's Hero
Our Newest Dayton Volunteer
Fun Rabbit Facts
Winter 2011 (Volume 15 Number 1)
Living with Growly
Three's a Crowd?
We're Growing!
Farewell to Brownie
Fall 2010 (Volume 14 Number 3)
At Home with Jasmine
The "A" Word: Abscesses in Rabbits
Good Gifts for Bunny
(Previous back issues are available on our Original Site)