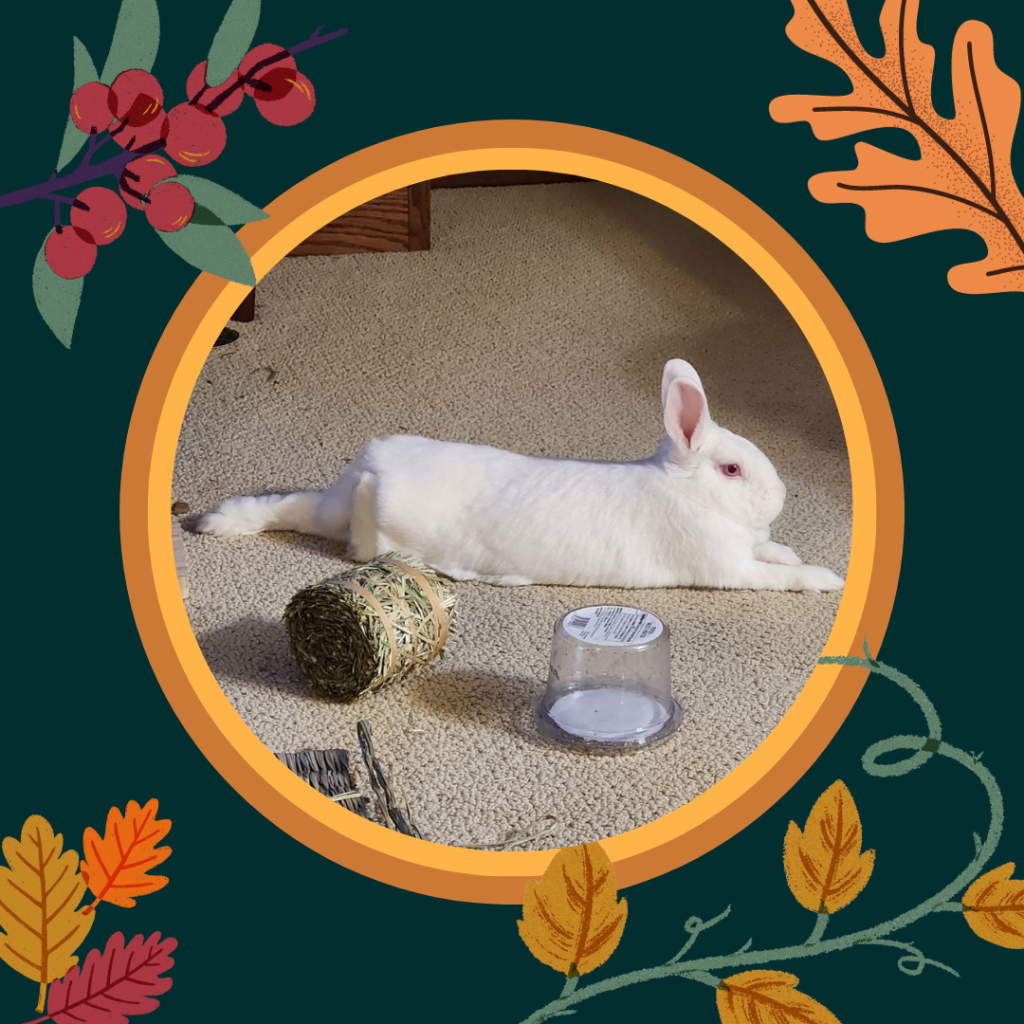 Happy Thanksgiving from Buckeye House Rabbit Society! We extend our heartfelt gratitude to all our supporters and adopters. On this special day, we want to spotlight an adoption that holds a particularly special place in our hearts.
Meet Merlin, a bunny who endured a lengthy stint in foster care and even faced the disappointment of a failed adoption. Red-eyed white bunnies, like Merlin, often face long waits for their forever homes. During his time as a foster, Merlin remained quite reserved, occasionally revealing glimpses of his unique personality to his foster family.
When Bev and Rich made the decision to welcome Merlin into their lives, we knew that the wait had been worthwhile. Today, we share Merlin's heartwarming adoption journey and express gratitude for all our adopters who make stories like his possible. Happy Thanksgiving!
Merlin's Story, written by Bev:
I retired before my husband and had a lot of free time available.  My husband (Rich) knew I needed something to occupy my time and brought home a retired Japanese Harlequin show rabbit named Buttercup.  His previous owner had gone to college. Buttercup was a very loveable rabbit and filled the "work" void I was experiencing since retiring.  He loved to be petted and enjoyed his "free" time in the yard.  He would run around the yard until he got tired, then would nap under the hostas where he had made a cubbyhole.  My husband once petted Buttercup for 40 minutes, before Buttercup had had enough and wandered off to his bed.  Buttercup soon became an important part of our lives.  He passed away unexpectedly, and our hearts were broken.
We decided to adopt another rabbit. We researched the internet and found the Buckeye House Rabbit Society (aka BHRS).  We spoke to several members of BHRS and began working with Maggie.  Not quite sure how we would navigate a new, younger rabbit, it was recommended that we foster a rabbit before adopting. This took the pressure off "picking one" and permitted us time to get to know the personality of the bunny.  This turned out to be wonderful for us.  After just a couple of months of fostering Merlin we decided to adopt him!  BHRS was so helpful and supportive during this process.
Merlin was something of a loner and very skittish around us. He would run when we got near him and would not let us pet him. Over time, and with love and patience, Merlin accepted us as his new parents and is completely at ease with us.  He will now lay on the floor as we walk around; even permitting us to step over him without his moving. With mutual trust, he has earned the full run of the first floor of the house.  He follows us around the house and even upstairs, where we have our computer.  While we're on the computer, Merlin will often jump up into a chair behind us and lay down for a nap.
Merlin does numerous binky's daily and runs from one end of the house to the other, and even up and down the stairs.  He often runs down through the second-floor hall, down the steps, through the living room to the front door, immediately turning around and runs back upstairs.  After eating his breakfast, Merlin will nap in the living room until around 11:00 in the morning, and then move to his bed under our spare bed.  He will come out for his "greens" and more social time around 5:30.  Once Rich and I go to bed, Merlin will spend about an hour in the living room alone and then comes into our bedroom where he sleeps under our bed. He is quite the night owl. If we get up in the middle of the night, he is sitting in the living room enjoying the quiet. He brings us such joy and laughter that we can't imagine our days without him.
Rich and I, both being retired now, took on this responsibility with pleasure and haven't regretted a minute of it.  We just laugh when he gets mad at us for leaving him (ex: grocery shopping); turning his back towards us when we get home and telling us to "talk to the tail".  But it's not long before he's making us laugh and smile again….