Rabbit Poetry Wanted
Does your rabbit make you sing,
Write with joy and run with rhymes?
Join us for a Harelines fling —
Send your lyrics or your lines.
We invite your original poems of any kind!  We'll include a selection of poetry written by our rabbit-inspired readers in the next issue of our newsletter, Harelines.
Please send them to

@

by April 12.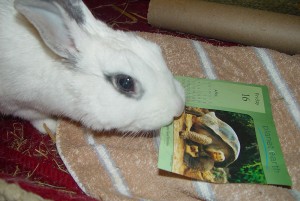 Whitby contemplates retelling The Tortoise and The Hare
in rhyme (he's a fan of The Hare)