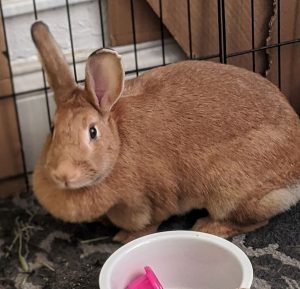 Molly is looking for a forever home where she can take long afternoon naps.  Molly is an expert in bunstruction and prefers to create her masterpieces from the inside of the cardboard box.  She is a big bunny with great manners who makes sure to take treats carefully from your hand.  One of the mother bunnies from the Wood County Humane Society case, Molly is very sweet and enjoys her quiet time.
Please contact Maggie Reading

@

This bunny in BHRS foster care needs a permanent home.  All BHRS rabbits are spayed/neutered, litterbox-trained, and socialized.