Our 13th Holiday Raffle
We've pulled a name out of our "hopper" and our Holiday Raffle Winner is Hope Smith of Toledo OH!!!  Congratulations, Hope, and sincere thanks to everyone who bought raffle tickets.  Our foster bunnies have a brighter future because of your generosity ❤️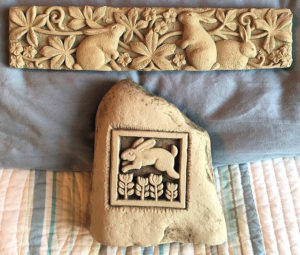 For our thirteenth annual holiday raffle, we proudly present two handmade stone tiles by Ohio artist George Carruth.
Deck the halls with these two beautiful original sculptures featuring frolicking rabbits.
Bramble Bunnies – Hook on back to hang.

Weight: 2 lbs. Dimensions: 2.5″ x 11.5″ x 1.25″. Composition: hand-cast concrete
Leaping Bunny – Can stand alone.

Weight: 3 lbs. Dimensions: 9″ x 5″ x 2″. Composition: hand-cast concrete
For more information about George Carruth visit www.carruthstudio.com.

All proceeds will go directly to our foster program and will help ensure that needy bunnies have a safe and happy holiday season while they await the ultimate gift, a permanent home.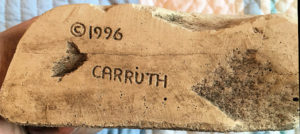 You can order tickets here (minimum 5 tickets), or by mail.  Tickets cost $1 each and you may buy as many as you wish.  If you are sending by mail, all entries must be postmarked no later than December 10, 2018.  Please include your phone number and email (if available) with your check or money order and indicate it's for the raffle.  Mail your request to:  Buckeye HRS, P.O. Box 61, Vickery, OH  43464.
The lucky winner will be notified mid-December and will receive the prize in time for holiday gift-giving.