Our 15th Holiday Raffle
Our 'hopper' of raffle tickets has given us this year's holiday winner — and she is long-time supporter Linda Gardner of Cleveland!  Congratulations, Linda, and sincere thanks to everyone who bought raffle tickets.  Our foster bunnies have a brighter future because of your generosity ❤️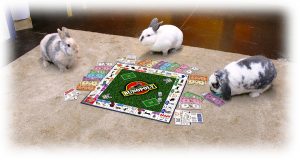 For our fifteenth annual holiday raffle, we proudly present the Bunopoly Classic Board Game, generously donated by The Bunny Barn (the.bunnybarnmi.com) AND a handmade porcelain rabbit charm necklace made and donated by Alicia Moreland.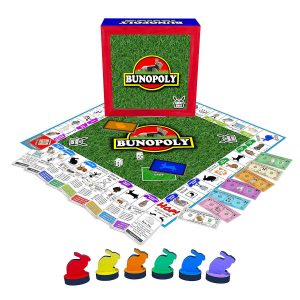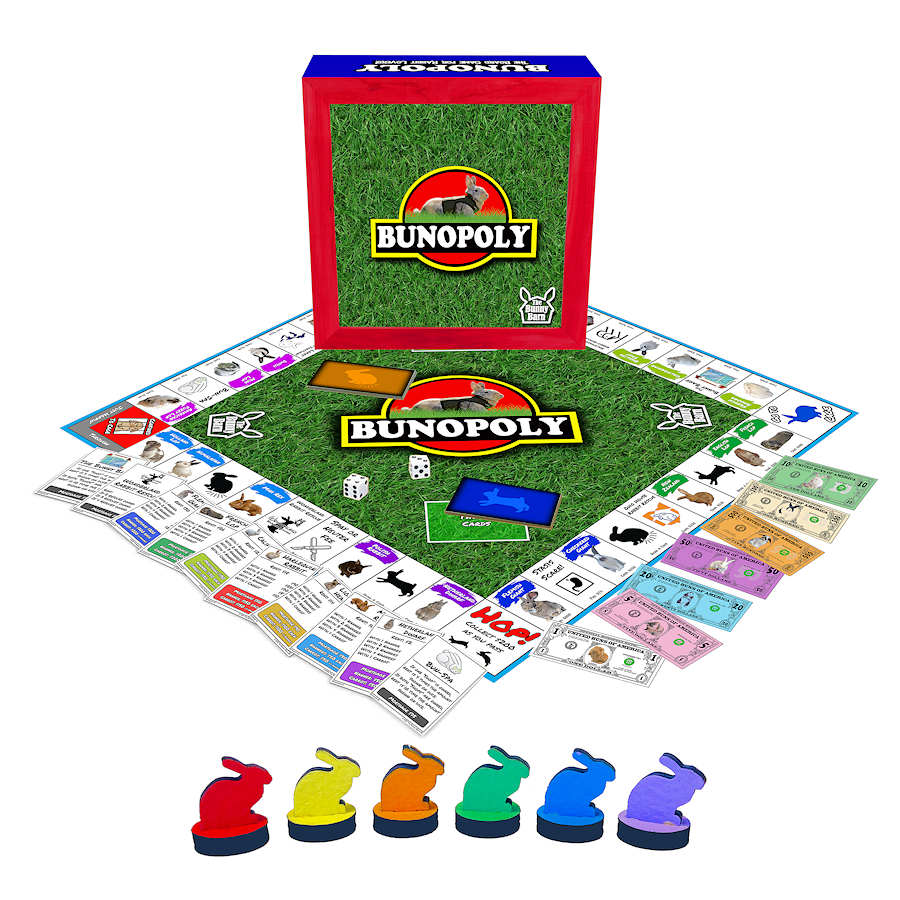 Bunopoly features 1 full-color printed box; 1 full-color, quad-fold game board measuring 18″x 18″; 6 colored player tokens; 12 large carrots; 32 nanners; 2 dice; 28 adoption cards; 18 binky cards, 16 thump cards; $24,696 in bunny money (36 of each bill denomination); and 1 instruction manual. Some final assembly and cutting required.

Game box measures 10″ x 10″ x 3″.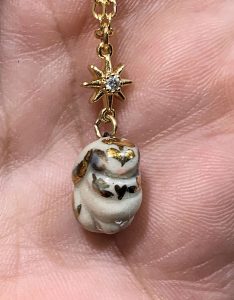 Charm necklace features a tarnish-resistant 24k gold-plated chain and findings and includes a crystal charm.

The rabbit charm is hand-sculpted, hand-painted porcelain, finished in a crystal-clear glaze and a premium gold overglaze. It is hand crafted by Cleveland's own Alicia Moreland.
The chain is 19″ in length and includes a 2″ extender chain for your convenience.
All proceeds will go directly to our foster program and will ensure that needy bunnies have a safe and happy holiday season while they await the ultimate gift, a permanent home.
You can order tickets here (minimum 5 tickets), or by mail.  Tickets cost $1 each and you may buy as many as you wish.  If you are sending by mail, all entries must be postmarked no later than December 7, 2020.  Please include your phone number and email (if available) with your check or money order and indicate it's for the raffle.  Mail your request to:  Buckeye HRS, P.O. Box 61, Vickery, OH  43464.
The lucky winner will be notified mid-December and will receive the prize in time for holiday gift-giving.