Click to see the winners!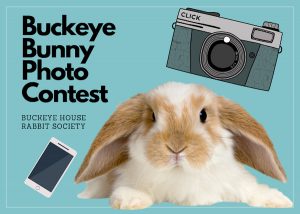 For a donation of $5 per photo, you may enter a pic of your bunny for a chance to win one of three fabulous prizes. Enter as many photos as you wish. Submissions will be posted to our Facebook photo album. Vote on your favorite photos by giving them a like! The owner of the winning photo will receive a set of four rabbit-themed glasses. First and second runners up will each win a Starbucks gift card and rabbit treats.
Enter your photo:
1. Take a high quality photo of your bunny!
2. Make a $5 donation per photo using our donation page
3. Email your photo/s to

@

Submissions will be accepted through Friday, July 26, 2019.
Voting will begin as soon as the first photo is uploaded and will continue through August 3rd.
To Vote:
1. "Like" the Buckeye House Rabbit Society Facebook page.
2. "Like" your favorite photos to place your vote. You may vote for as many photos as you wish.
3. "Share" our contest on Facebook to help spread the word!
The winner will be notified via email and announced on Facebook and Twitter.
Photo Guidelines:
Photos must be in .jpg or .png format with a file size of no less than 300 KB; 1 MB or larger is preferred. Photos should be at least 1200 pixels on the longest side. Photos must be in focus and of good quality (specifically in terms of brightness and contrast) and must not appear grainy. We maintain the right to reject any photo for not following the guidelines. Entries must be submitted by the original photographer. Your submission of the photo/s is your guarantee that you are the author and copyright holder. Contestants retain the copyright to their photographs, however, with your submission you agree that Buckeye HRS may display your photo/s on our website, social media, and in our printed newsletter. Photo credit will be provided in the photo description.