Cecelia
Cecelia, one of our sweetest Sanctuary Rabbits, passed away recently from an inner ear infection and related illnesses.  Cecelia was a beautiful, happy bunny who did hoppy skip hop dances at mealtime and wore a butt skirt like no other bun.  We will miss her spirit and her boundless energy.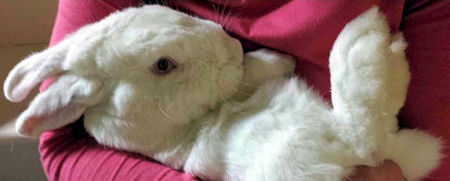 Cecelia is a huge hunk of happy, snuggly, and funny all rolled into one big white pink-eyed bunny. But if we move too quickly or are late in delivering her hay and pellets, she serves us an occasional bite on the hand, usually drawing blood. Everything has to slow down for Cecelia or she becomes overwhelmed and ready to strike. Like many of the Sanctuary rabbits, she's usually passed over for a friendlier or cuter bunny at adoption time.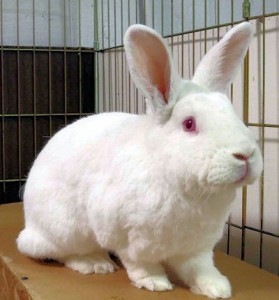 Our sanctuary rabbits require special love and care. Their home is with us at the sanctuary and they are not available for adoption. You can directly support these rabbits by sponsoring them.