Jellybean Truelsch
Jelly Bean has found his forever family in the Holden homestead.  Kids Ben, Emma, and Tucker are thrilled with their new little brother, and Jelly Bean is loving his new stylish house with room to roam.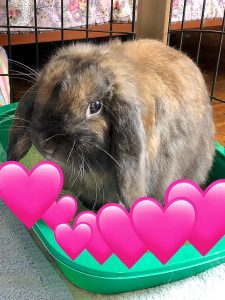 Jellybean Truelsch is a young, energetic guy who wants to cuddle.  He is always exploring, which lends well to meeting new people.  We promise that you will find love at first sight!
Jellybean was chosen for a Name Our Next Foster Rabbit donation by David Truelsch.  Thank you, David!
This bunny in HRS foster care needed a permanent home.  All HRS rabbits are spayed/neutered, litterbox-trained, and socialized.