Lorenzo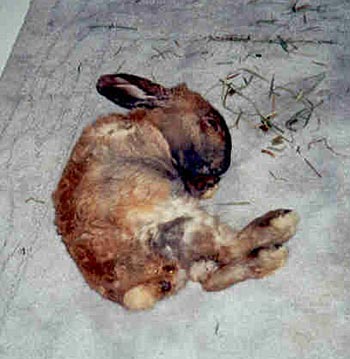 FAREWELL
Kristen Doherty writes, November 24, 2002
I am sorry to tell you that Lorenzo passed away today. He underwent invasive bulla (middle ear) surgery on Thurs, which was his only chance for any kind of recovery from his severe ear infections and head tilt. I was providing basic post-operative care since his return home on Fri, and he quickly began to decline until he could no longer fight. The infection was extremely aggressive and was putting severe pressure on his brain and nerves. He was suffering horribly, couldn't eat, and was struggling to breathe, so Paul and I drove him to the vet. Lorenzo's vet assured us that we were doing the right thing by ending his pain. Paul and I can say we did everything we possibly could to give him a chance. In just seven weeks, he stole our hearts, and we will miss him terribly.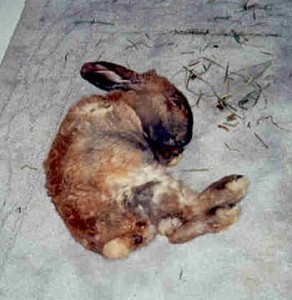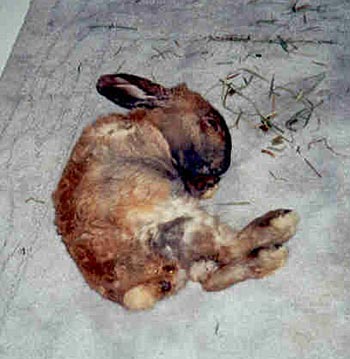 Lorenzo has severe head tilt. He was abandoned with 16 other rabbits by a 19 yr old girl who was "rescuing" rabbits. Apparently she had a drug problem and left home one day, and left the rabbits in her family's garage to fend for themselves. The girl's family was going to euthanize Lorenzo, so I took him home.
Lorenzo is currently undergoing aggressive ear treatment since both ears are badly infected. We're convinced that his feisty personality is what's keeping him fighting this horrible infection. He was put under anesthesia twice to clean/debride abscesses deep inside both ears. A few days after the very first ear cleaning, Lorenzo was able to stand, whereas he could not before.
More recently, Lorenzo underwent a complicated and costly surgical procedure called a bulla osteotomy to remove more infected tissue and debris from the middle ear. It is his only hope of achieving a near-normal quality of life. We are hoping that the surgery, along with follow-up treatment, will enable him to stand at will and to someday walk and hop. As long as he continues to receive treatment, Lorenzo will remain a Sanctuary rabbit.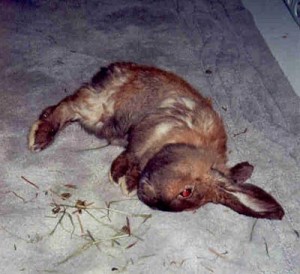 Lorenzo's treatment will require long-term use of medications and possibly ongoing surgeries and ear flushings. This means several trips to the vet.
Lorenzo is roughly 8 yrs old and currently lives in a 25″x16″x15″ cage with a top-opening lid. The cage is lined with towels and fleece.  — Kristen Doherty