Emma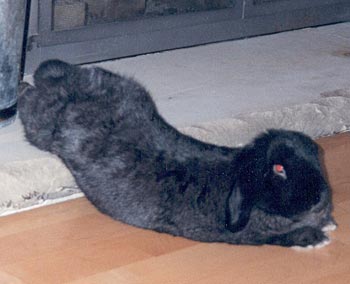 FAREWELL
Goodbye our little bi-polar girl. We miss your batting, grunting, lunging, ankle-biting and general moodiness. We miss your relentless begging for a baby carrot, your running across the top of the leather sofa at top speed, your graceful leaps high in the air, and your dramatic flops in the middle of the room. We miss you sitting under the chair next to the tree while we opened our Christmas presents. You always wanted to be close to people, whether a group of four or forty, as long as no one got too close. You were the Queen of Drama, the Queen of Mean, the Queen of Sheba, our Emma Jean. Thank heaven you didn't suffer. We miss you every day.
Kristen and Paul
Emma was rescued in May 1999 when her "person" wanted a veterinarian to euthanize her because of her bad behavior. The vet instead asked the lady to call the Buckeye House Rabbit Society. We took Emma in as a foster bunny and when it became clear to us that she would never be adopted because of her behavior, Emma became a Sanctuary rabbit. Because she could not co-exist peacefully with other rabbits, Paul and I brought her up to our first floor where we could give her special attention and work on behavior issues. She was roughly 10 years old when she passed away from a congenital heart problem. Emma was one of the rabbits helped by the Sponsor A Sanctuary Rabbit program, so thank you to Emma's sponsors.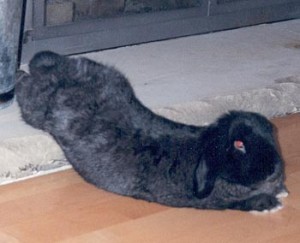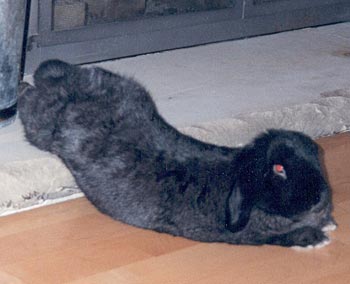 We jokingly refer to Emma as our "bipolar" Sanctuary rabbit. She is moody and can scare people (including us) with her batting, grunting, lunging, and occasional biting. We are only able to give her pets on her nose, usually first thing in the morning, and she will not let us touch her anywhere else on her body. Emma is unusually territorial and makes her displeasure known if we try to enter her large pen area.
Another odd thing about Emma is that she loves to be around people, especially kids – as long as you don't touch her. She typically bounds out of her pen to greet house guests. Many times she will plop herself in front of the fireplace when people are sitting in the family room or kitchen talking. She loves to run, dance, leap, and flop.
Emma is otherwise very healthy. Although she has no current medical expenses, she does need a steady supply of hay, fresh greens, pellets, and an occasional visit to the vet. 
— Kristen Doherty