Lucky
Lucky is a Dutch mix rabbit full of personality. He is around a year old and loves to be in the middle of activity.  He is litter trained, a great hay and greens eater and will needs lots of room to roam, play and socialize.  He will often follow his humans around and request pets and snuggles and loves to hang out with rabbit friendly pets in the home. Lucky would love to be king of your castle!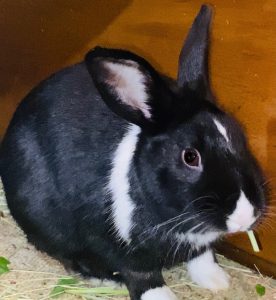 Please contact Amy Marshall bhrs-amy@ohare.org
This bunny in HRS foster care needs a permanent home. All HRS rabbits are spayed/neutered, litterbox-trained, and socialized.