Missy
Missy, now named Rosie, has found her forever home.  She has also found an entire family of humans to dote on her.  Not only is her pen perfection, her extended area made her binky almost immediately.  We couldn't be happier for Rosie, her mom Hannah, and all her new human family members!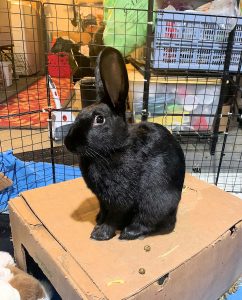 Born with her sister Indigo in September, 2019, Missy is ready to find her forever home.  The ideal home will have plenty to room to explore, binky, and run the Bunny 500.  Both healthy and happy, Missy has tons of energy and love to give.
This bunny in HRS foster care needed a permanent home.  All HRS rabbits are spayed/neutered, litterbox-trained, and socialized.