Our 12th Holiday Raffle
And our raffle winner is … Gary Savage of Alliance, OH! Congratulations to Gary and many thanks to all who supported the Buckeye HRS through the purchase of raffle tickets. Proceeds are allowing us to make 2018 brighter for more homeless bunnies in Ohio.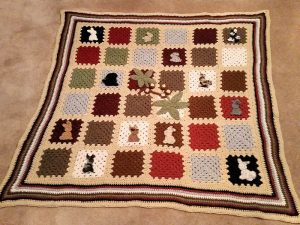 For our twelfth annual holiday raffle, we proudly present this stunning, hand-crocheted afghan by our very own educator, Dr. Diana Cron!  Peace, Love, Buckeyes, and Bunnies is a one-of-a-kind creation featuring twelve adorable bunnies and a cluster of buckeyes.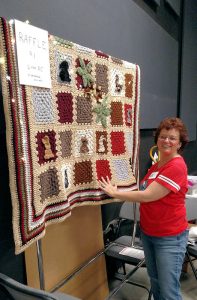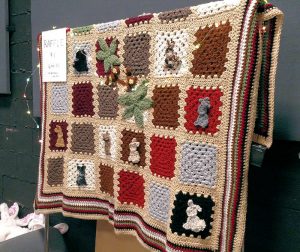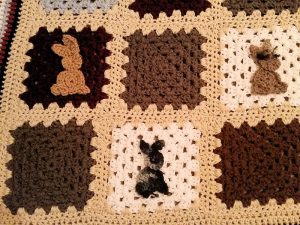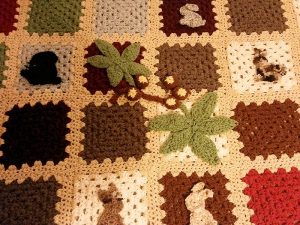 Each bunny is different – you'll find up-ears, lops, lionheads, inquisitive bunnies, and relaxed ones. The rabbit shades of grey, tan, cream, and rust along with contrasting highlights complement any room's color scheme. Measuring approximately five feet by five feet, this cozy blanket will be large enough to wrap yourself in rabbits or use as a decorative accent on a bed. Easy care 100% acrylic.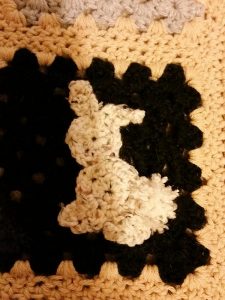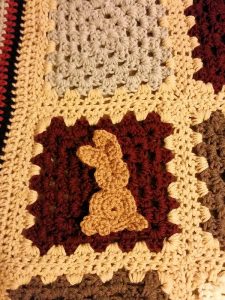 All proceeds will go directly to our foster program and will ensure that needy bunnies have a safe and happy holiday season while they await the ultimate gift, a permanent home.
You can order tickets here (minimum 5 tickets), or by mail.  Tickets cost $1 each and you may buy as many as you wish.  If you are sending by mail, all entries must be postmarked no later than December 11, 2017.  Please include your phone number and email (if available) with your check or money order and indicate it's for the raffle.  Mail your request to:  Buckeye HRS, P.O. Box 61, Vickery, OH  43464.
The lucky winner will be notified mid-December and will receive the prize in time for holiday gift-giving.