"Terribly clever and possibly unique gifts" from Stupid Adorable will be sold at BunFest for our benefit! As Shawnna Lemerise and her friend tell us: "we are working on painting glasses and mugs, more jewelry items, and cross stitch. I would like to donate a % of our (online) sales to BHRS  and at BunFest, we will donate all profits from our sales!"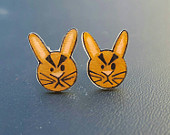 Click to take a look at some featured items from Stupid Adorable, offered through their shop on Etsy.
If you don't know about BunFest on Saturday, October 3, in Columbus, don't miss out!  Click for details.