Small Pet Select Contest
On September 2, 2016, we'll be announcing two winners!
#1 – We're going to draw one lucky "rabbit name" and the person who submitted it will win FREE HAY FOR 1 YEAR!
#2 – The Rabbit Rescue with the most votes when the contest closes, will win 200 POUNDS OF FREE HAY!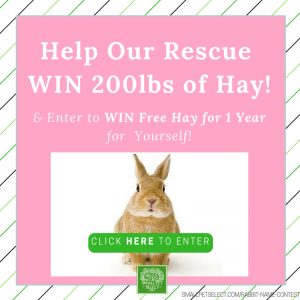 What's the Rabbit Name and Rescue Contest All About?
Rabbit Rescue's around the country do an amazing job at caring for and finding homes to bunnies who have found themselves in a tough situation. So we thought it was time to show them some support, Small Pet Select style. With FREE HAY!
How Does The Contest Work?
Easy, just click on the image above and fill out the form! 
1) Share your favorite rabbit name
2) Vote for your favorite rabbit rescue
3) Be entered to win!
Entries will be accepted until August 31, 2016, at 11:59 PM (EST)