The Indiana Babies
Meet The Indiana Babies!  Just after Easter, a female bunny was dumped on the porch of a local cottontail rehabber in Indiana only to give birth to eleven kits a few days later.  Seven of the babies survived and five have been with BHRS since they were three weeks old.  It has been such a joy to watch them grow.  This batch of baby buns are now three months old and will be ready for adoption soon after they are old enough to be spayed and neutered.
Dazey – black; Nikki – Dutch; Karley – Californian; Bunny – Californian; Lindsay – Californian
* One has a unique marking on the nose. Depending how you look at it, you will either see the head\face of a rabbit or the back profile of a bunny (aka bunny-butt).  Can you identify which bunny has the marking?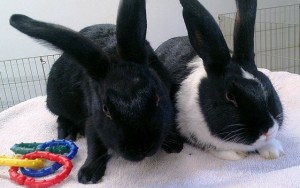 Please contact Sue Zimmerman 

@

419-355-8433