Whole Food Protest Day, August 17, 2014
written by Linda Gardner & Stephanie Lodge
On August 17th, ten rabbit advocates — Stephanie & Phillip Lodge, Linda & Mark Gardner, Katie Straka, Kyra Kester, Christina Collins, Lane Ferrante, Cindy Slezak, Stephanie Smanto — gathered in Cleveland, OH, to protest the Woodmere Whole Foods carrying domestic rabbit meat in their meat counter. This protest was in unison with about forty other nationwide protests at Whole Foods (WF) locations. Most of us were a little nervous at first; until we all realized we were in the same boat.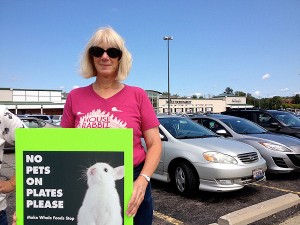 We decorated all our cars with rabbit ears and pink noses and then placed large posters visible for anyone to see. The store manager asked us to move away from the front of the store and explained we could stand on the grassy areas in front of the shopping plaza facing a busy Chagrin Blvd.
The manager came out again and tried to make us leave the area where he told us we could be.  Mark Gardner said, "When you get the owner of the property to call me and ask us to leave, we will". The manager got a bit frustrated and said he was calling the cops.
We tried explaining as he walked away, "we are not asking people to boycott WF, we like shopping there. All we are asking is that you stop carrying rabbit".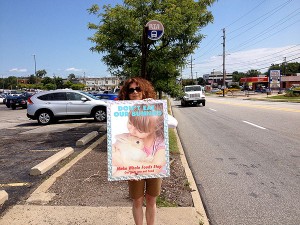 The police did show up and to our surprise, they were super-nice and never confronted us, as we were on public property despite what the WF manager tried to tell us. The highlight of the experience was at the end; one policewoman requested some of our literature from Stephanie. The officer is vegan and wanted to help support our cause!
Sadly, we did have one strange lady who accused us of discriminating against pigs, cows, and chickens. We tried to patiently explain to her — that was not our battle today. Today, we are speaking out for our bunnies, who are our pets.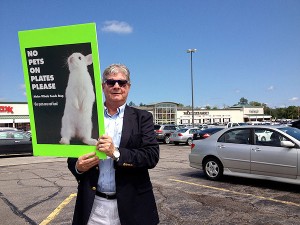 Interested in helping???
Sign our petition. Please go to www.change.org/petitions/wholefoods-please-do-not-sell-rabbit-meat-in-your-stores Or just google "Whole Foods petition".  Visit www.wholefoodsmarket.com and tell them how you feel about them selling domestic rabbits as meat.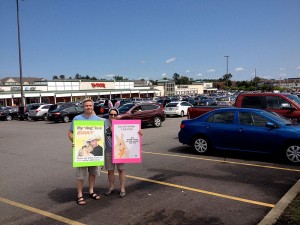 We would like to say a special thank you to Linda & Mark Gardner for their extensive color printing, sign making, bunny ears for people and cars, leadership, and positive attitudes. Their time and hard work made a world of difference to the cause.