Lyle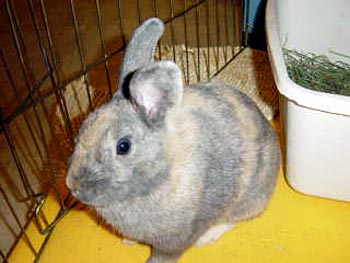 FAREWELL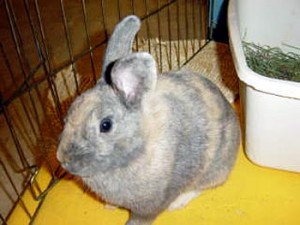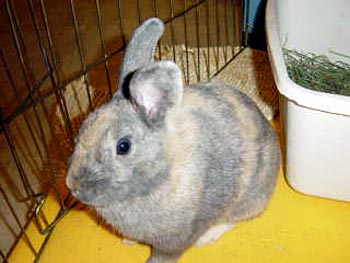 Lyle came into Buckeye HRS foster care in November of 2003 at approximately four months old. Because of the special ongoing care required, it is unlikely that Lyle will be adopted, so he's considered a Sanctuary rabbit.
 Here's a bit of Lyle's background —
A lady, whose son won Lyle at a carnival, was exasperated and annoyed because he was constantly wetting himself and making a lot of work for her. She wasn't willing or financially able to look into the medical causes of Lyle's problem, nor the necessary treatments. Her husband had threatened to throw him out into the woods to fend for himself if she didn't "get rid of him" soon.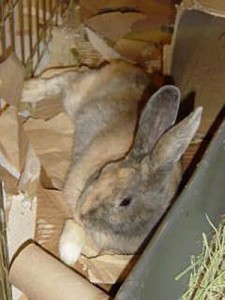 When Lyle arrived, he had bad hock sores on his feet. His legs were raw and scalded from urine burn. We cleaned him up and rubbed antibacterial cream on him for a few days, but the problem didn't go away. Lyle had several vet visits, and despite the many tests performed, his problem was a mystery. Finally, after several more tests, we learned that his body was overproducing urine crystals. We still can't figure out, however, why he "leaks". Because of this leaking, he needs to be bathed at least every other day. He also needs to have a special cream rubbed on his underside, thighs, and feet. He must live on fleece blankets with absorbent rugs and towels underneath to soak up the moisture. Recently we have seen evidence of bladder sludge, a thick pasty substance in his urine, so he needs subcutaneous fluids at least every day to help flush the sludge from his bladder.
Unusual for a dwarf (he's about 3 ½ lbs), Lyle is a snuggler. He loves people and doesn't mind being picked up and held. He'll also sit a long time for pets. Although he doesn't like his regular baths, he does enjoy the attention and the human contact he gets. He is a true joy to care for!