Alex
Alex (now Thumper-Doodle) has become the apple of his new mom's eye.  Congratulations to Kelly!
Alexander the Great is the typical teenage boy.  He loves doing the Bunny 500, but is always willing to take a break for some cuddles.  He doesn't mind being picked up and held for short periods of time.  Alex is the big brother of Barry and Norm and son to Roxy.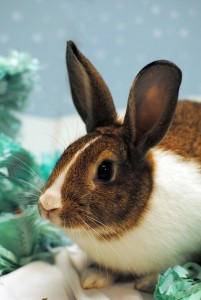 This bunny in BHRS foster care needs a permanent home. All BHRS rabbits are spayed/neutered, litterbox-trained, and socialized.