Barley & Hops
After over three years in our foster home, Barley and Hops have finally found their forever home with April and Alex Van Ness and family.  Barley and Hops are loving their new home and we could not be happier for them.  
Meet Barley & Hops, aka "The Beer Babies". Barley & Hops are a pair of six-month-old, super-friendly "BWBs" (Big White Buns). Barley is a sweet boy and likes to be involved in whatever you are doing. Hops is a cute and curious little girl. We would like them to stay together. BWB's grow to be larger bunnies, but they have the sweetest temperaments. They are mostly laid back and easy going. BWB's are good for families with younger children. Come see for yourselves how wonderful these guys really are.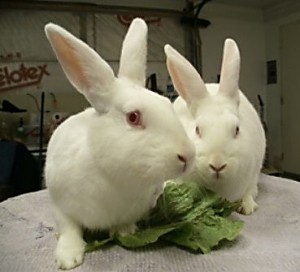 These bunnies in HRS foster care need a permanent home. All HRS rabbits are spayed/neutered, litterbox-trained, and socialized.