Garfunkel
Little Garfunkel (now Rocky) has been adopted by Matt Grabnic.  Matt reports that Rocky is doing fantastic in his new home.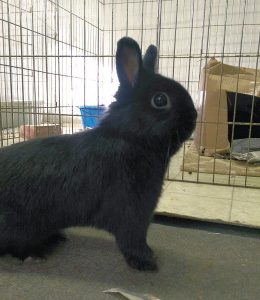 Garfunkel may be small in stature, but he is big in attitude.  This solid black Netherland Dwarf has no idea that he is a really small bunny (please don't tell him).  He LOVES to explore and climb up on top of things just to show off.  He will greet you every day at the door to his pen and expects you to pet him right away.
This bunny in BHRS foster care needs a permanent home.  All BHRS rabbits are spayed/neutered, litterbox-trained, and socialized.