Goldie Hops
Goldie Hops had a rough start in life, but now she has her feet planted in her new home.  She can finally be the Queen of the Castle that she always wanted to be!  Congrats to Sam and Nathan.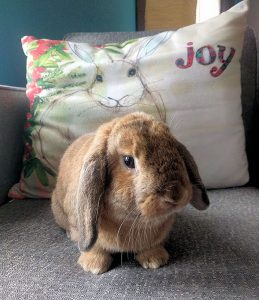 Goldie Hops has movie star looks, but don't let this blonde fool you!  She is an enterprising and independent bun.  She may seem shy and quiet but she will surprise you with her extreme high-jumping ability and clever moves.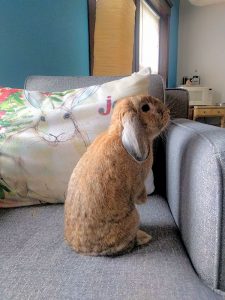 Some of her favorite things include empty Amazon boxes, empty tissue boxes, and empty shoe boxes.  When she's not creating or destroying one of her many box hideouts, you can find her striking an adorable and Instagram-worthy pose.  She has even been known to cuddle up on the couch from time to time, looking for the warmest, smallest space to squeeze into between you and the blanket.  This little lady likes a quiet home that she can take charge of.  She would prefer to be the only rabbit or the dominant rabbit in a household.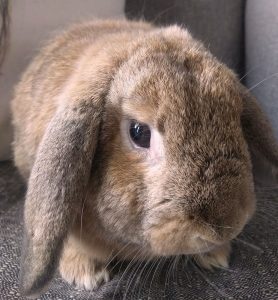 This bunny in BHRS foster care needs a permanent home.  All BHRS rabbits are spayed/neutered, litterbox-trained, and socialized.