Kasey
Kasey, now Kaycie, has found her forever home with human mom Cathy and new husbun Rory.  The bunnies are still working on their relationship, but Cathy is already smitten.  Congrats!!!!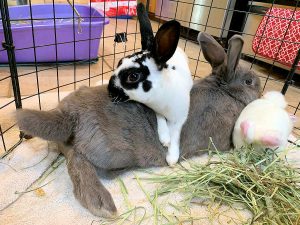 Meet Kasey!  Kasey is one of the remaining Sandusky County court case bunnies who came to us last year.  Her beautiful gray fur and eyes give her a stunning appearance.  This sweet little princess has wonderful litter box habits.  She anxiously awaits a home to call her own.
This bunny in HRS foster care needed a permanent home.  All HRS rabbits are spayed/neutered, litterbox-trained, and socialized.