Lacey
Lacey's adoption story is a special one.  Lacey was dumped on the doorstep of John and Ruth Miller of Indiana.  Ruth is a wild cottontail rehabber.  The next morning, Lacey gave birth to a large litter and Ruth contacted us for help.  Three weeks later, Lacey and her seven babies come into our Fremont foster home.  All of her babies were adopted out — but for the next two years, Lacey remained in foster care.
Recently, out of the blue, we received an email from the Millers.  They felt bad that Lacey was still in foster care and they would love to give her a forever home with them.  We are so excited and happy that Lacey has a special loving home with John and Ruth Miller — in the place where she was first rescued.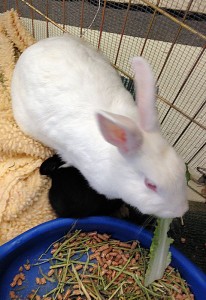 Meet Lacey!  Lacey is the mother of the Indiana babies.  Lacey was dumped on the porch of a cotton-tail rehabber only to give birth to eleven kits the next day.  (She raised the seven babies who survived right here in our foster home.)  Lacey is looking for her fur-ever home.  She loves baby carrots, cardboard boxes, hay munching (and long walks on the beach – just kidding).
White bunnies with pink eyes are the hardest for us to adopt out.  Please give her a chance at a life she deserves and show her that she is anything but disposable.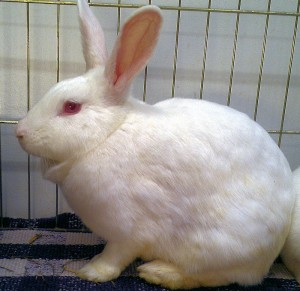 This bunny in BHRS foster care needs a permanent home. All BHRS rabbits are spayed/neutered, litterbox-trained, and socialized.