Peaches
Peaches, now named Buttercup, has been adopted by the Matthews family and is loving her new home.  She is settling in well and even made friends with the family dog.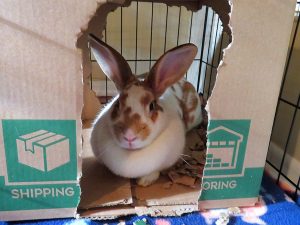 Peaches is a big, snuggly girl who is ready for home delivery.  Along with three other rabbits, she was found in a park.  She has settled in nicely at her foster residence and has excellent litter box habits.  She likes to shred her cardboard box, play with her blankets, and toss her toys.  Peaches gives bunny kisses and is learning to enjoy pets.
This bunny in HRS foster care needed a permanent home.  All HRS rabbits are spayed/neutered, litterbox-trained, and socialized.