Peewee
Peewee is now the happiest, most spoiled bunny with his new family.  Lama, Dale, and Carmen (bunny) are all pleased with their new addition.  Congrats on your new fuzzy son!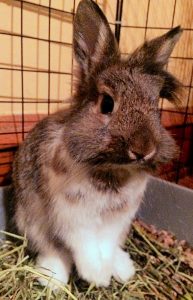 Peewee is a spunky yet lovey two-and-a-half pound boy. While he enjoys treats, he really loves attention and room to roam. Given the proper space he will show off some spectacular binkies.
This bunny in BHRS foster care needs a permanent home.  All BHRS rabbits are spayed/neutered, litterbox-trained, and socialized.