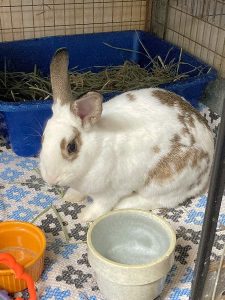 Pookie is a sweet little girl. She rearranges her things just the way SHE likes them to be and loves attention, especially being petted on her head. She has great litter box habits. Pookie Zimmerman was named by Ann-Marie Polansky via the Name our Next Foster program.
Please contact Sue Zimmerman

@

419-355-8433
This bunny in HRS foster care needs a permanent home.  All HRS rabbits are spayed/neutered, litterbox-trained, and socialized.