Puff
Puff came to the Buckeye House Rabbit Society in April 2005 as a healthy, active boy and was adopted in December 2005 to a family with small children. Two years later, I received a call from his adoptive family saying they could no longer care for Puff — caring for a bunny in addition to two small kids was too much to handle. When Puff came back to our foster home in December 2007, we immediately noticed something was off. He wobbled when he walked and also when he stood still. Sometimes he would lose his balance and almost fall over.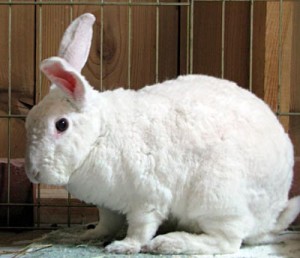 After a thorough vet checkup, x-rays, bloodwork, and some other tests, Puff's diagnosis was inconclusive. His wobbliness could be caused by anything from a neurological problem to a parasitic infection (which he was treated for).
To help him maintain his balance, Puff needs to live on non-slip carpets that give him lots of traction. Other than his wobbliness, Puff is a normal, healthy, sweet bunny with a very hearty appetite!
He lives a happy life in a large pen are with his best friend, Calvin, another Buckeye HRS Sanctuary rabbit. They lean on each other most of the day, literally keeping each other from falling over.
Kristen Doherty