Samson
Samson, now Harvey (named after the movie, not the hurricane), has found his forever home with Sarah Rex — now he is a double Rex!  Harvey is happily broadening his horizons with all the fresh herbs & veggies that Sarah grows in her garden.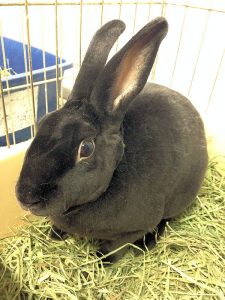 Samson is a young mini-rex male from the Sandusky County Twelve.  He's active and friendly and likes to play with his cardboard box.  Samson will make a perfect addition to your home.
This bunny in BHRS foster care needed a permanent home.  All BHRS rabbits are spayed/neutered, litterbox-trained, and socialized.