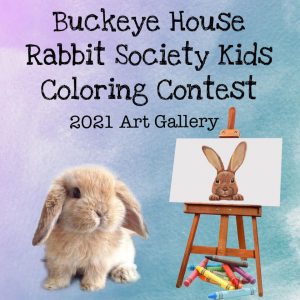 Congratulations to everyone who entered the Kids Coloring Contest! We are happy to announce we have 11 entries and talented artists of all ages. Thank you to everyone who participated to help support our love for Rabbits.
Inviting all kids and teens! For those would like to show off their artistic skills while supporting Buckeye House Rabbit Society, we are hosting a virtual rabbit 'Think Spring' coloring contest for ages 17 and under.
🐰All entries will receive a ticket to be entered in a drawing to win a $25 Amazon gift card. There will be two winners. 🎉
🐰All entries will be showcased on our Facebook page to show off everyone's artistic skills.
🐰We will also select a few entries to be displayed in our Spring Harelines newsletter.
🐰This coloring contest is based on participation and creativity to show your love for rabbits.
🎨Art must be on a 8.5×11 piece of plain white paper or canvas.
🎨Colored pencils, crayons, paint, makers allowed.
🎨The picture must contain at least one rabbit and a 'Think Spring' theme.
🎨Parents must submit art work by taking a close up picture and please email to bhrs-amy@ohare.org. (Example in comments)
🎨Please include child's first name and age.
Please share with your family and friends! All children are welcome and everyone gets a chance to win a prize! Please email entries to bhrs-amy@ohare.org
Entries due by 3/13 8pm!