Treasure and Sweet Dee
Treasure and Sweet Dee (now Casey) have found their new family.  Heather, Noriel, Noel, Naila, and Lucia are completely in love with them!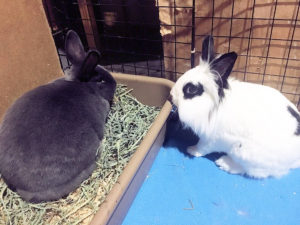 Treasure and Sweet Dee Paisley are the sweetest couple.  Their personalities, although very different, complement each other nicely.  Treasure (white with black) is outgoing, friendly, and has lots to do, while Sweet Dee (black) is more laid back.  They were previously adopted, but returned to BHRS through no fault of their own.  They are wonderful bunnies and must be adopted together.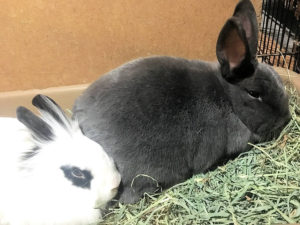 These bunnies in BHRS foster care needed a permanent home.  All BHRS rabbits are spayed/neutered, litterbox-trained, and socialized.