Yoda
Yoda's new family reports: "This handsome boy is the perfect bunny for our family. We are so in love with him and he's seems very happy in his new home! He loves romping around with our two young boys, chases the cats around and even plays with our yellow lab Finn! He is such a good boy, uses his litter box all day even though he has full roam of the whole house. He's exactly what I was hoping for when I set out looking for a rabbit. We love you Boone Boone!"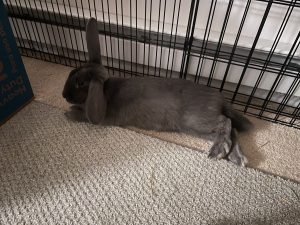 Handsome Yoda was found sitting on a yard chair in Avon Lake. Lucky for him we were able foster him immediately. Yoda has already been featured on TV. This is little TV star has the silliest ears and personality to match. He's upbeat and very friendly with strangers.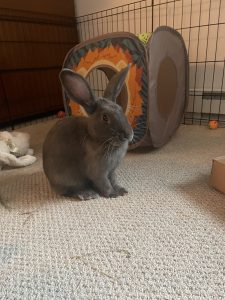 Please contact Stephanie Lodge slodge@ohare.org 216-571-1088
This bunny in HRS foster care needs a permanent home. All HRS rabbits are spayed/neutered, litterbox-trained, and socialized.