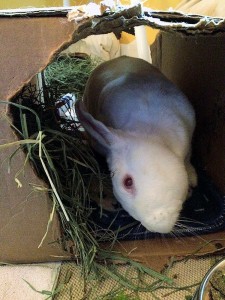 New to our Sanctuary Program
Barley is a very gentle, sweet man who has developed an extreme head tilt due to neurological problems. The head tilt came on suddenly, but he's adjusting to the physical changes.  Barley is very accepting of back and neck massages.  He might not be able to get around like he used to, but he is giving it his all.
Barley is a big beautiful New Zealand white or REW (red-eyed white).  Barley was adopted out with his sister, Hops, in 2015, but was returned after his sister passed away.
Despite his delightful demeanor, he is not afraid to tell you when he doesn't like something.  With proper care, his head tilt is manageable and Barley can continue to be happy, carefree rabbit.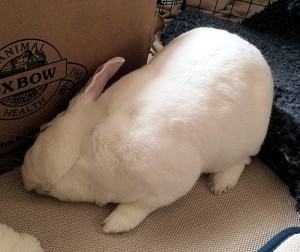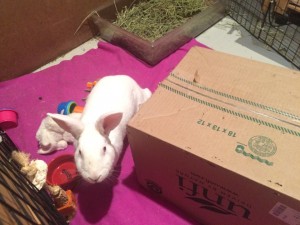 Our sanctuary rabbits require special love and care. Their home is with us at the sanctuary and they are not available for adoption. You can directly support these rabbits by sponsoring them.